Skirt Style Guide for Women Over 40: How to Look Cool and Confident
As spring arrives and the weather heats up, hemlines rise, and this season that means wearing the trendiest of skirts. But for some women over 40, it's difficult to find skirts that are both attractive and suitable for their age, so they shun this wardrobe essential entirely. The good news is that if you follow a few easy styling criteria, you can completely sport skirts whether you're in your 40s or your 70s.
Consider the Length, Shape and Style of Your Skirt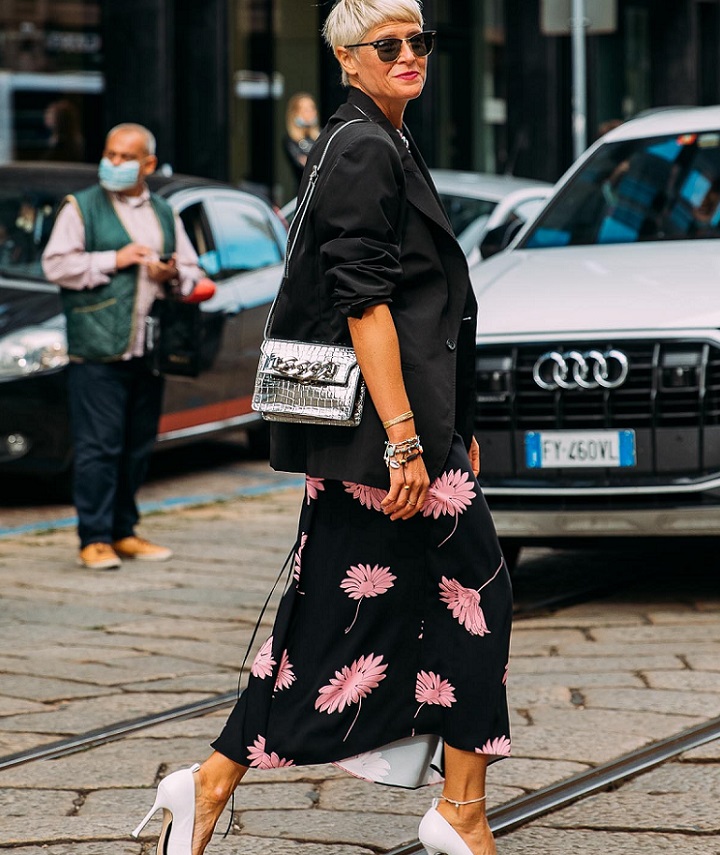 Wearing a short skirt somewhere other than the tennis court or the beach as a lady over 40 might appear improper. Even if you're in great shape, a thigh-baring skirt or dress looks cheesy and as if you're attempting to seem younger than your actual age. Therefore skirts for women over 40 should preferably be knee-length. When a skirt stops just at the knees or just below them, it elongates your legs and shows off your calves, giving you a more youthful appearance.
If you want to go for a Bohemian appearance or just want to keep cool and protect your skin in the summer, you may choose a full-length skirt that flows down. However, skirts or dresses that finish in the middle of your calves should be avoided since they highlight the thickest area of your legs and make you appear larger than you are.
The shape of the skirt, in addition to its length, affects whether it will look nice on you. A pencil skirt is always a great choice since it's meant to flatter most body shapes. Simply opt for one that fits well without being too tight or hindering your movement. For a more casual style, pair it with a thicker heeled shoe like a pump or a wedge, or with some stunning stilettos for a dressier look. A-line skirts are the most flattering for women over 40 who want to hide their waist, hips, and buttocks. Make sure the skirt has a high waistline that fits you well and flares just over your broadest point for this skirt form to work its magic.
You may wear any style and material you choose as long as the length and contour are acceptable for your physique. A pleated A-line skirt, for example, might be a terrific choice if you want to add an architectural element to your ensemble. A pleated skirt is a terrific way to add glitz to an ensemble. Pencil denim skirts of a dark blue colour, on the other hand, are ideal for a more informal and fun style. You may even go for asymmetrical patterns and skirts with low slits. If you're looking for something patterned or floral, pick older ladies skirts made of linen and rayon.
Don't Be Too Colour Coordinated With Your Outfit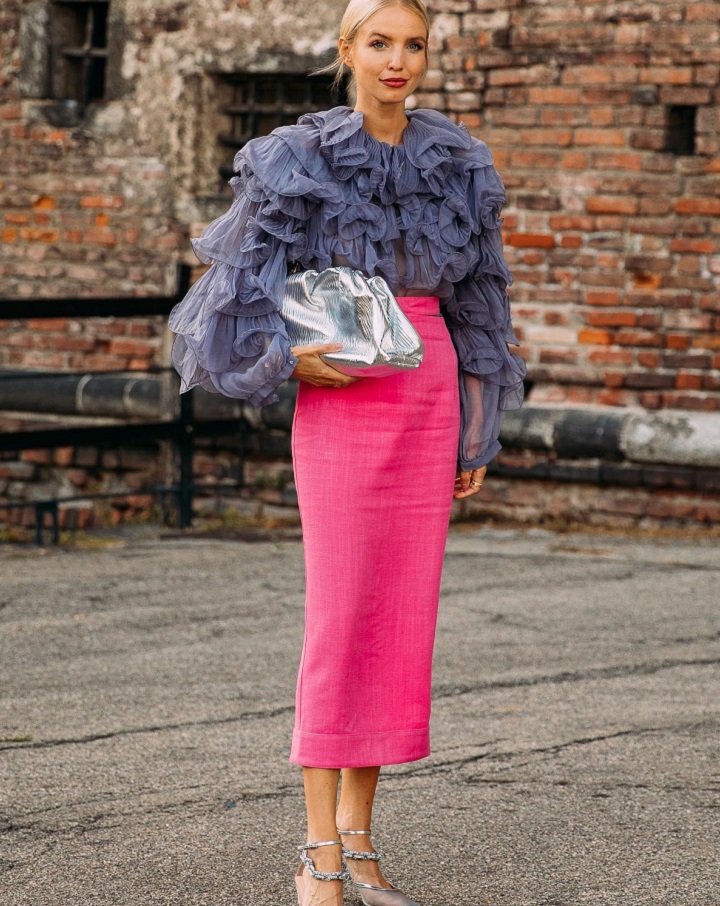 Women, especially those who are a little older, find a two-piece suit to be rather stiff. Instead, try mixing blouses and sweaters with skirts or trousers while preparing for work. It's fun to switch things up and have a little extra fun. A two-piece suit will fast become outdated. To appear effortlessly stylish, pair the jacket with another skirt or pair of slacks. And about the colour coordinance, you don't have to wear a monochrome wardrobe just because you're over 40. Even on days, when you might not be up for colour- coordinating your outfit, you can just throw on a fashionable women's cardigan to add a pop of colour, and you're good to go.
Styling Accessories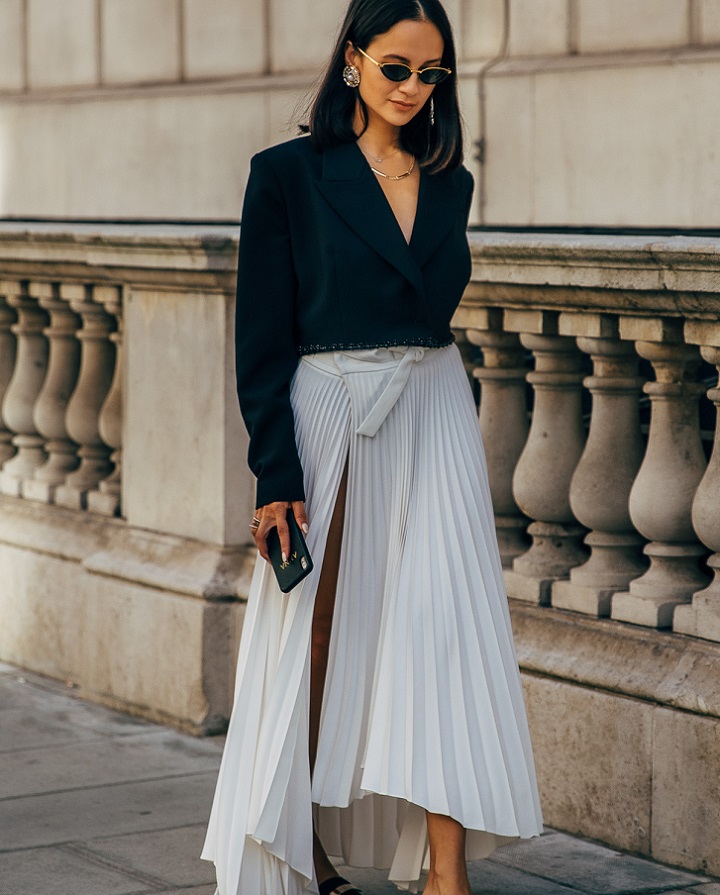 Even if your clothing is well-put-together, it may still seem incomplete. This is when earrings come in handy! You can wear them anywhere, at any time, and they will simply add to your look. While this is certainly not a new fad, it has lately gained favour.
The statement earrings are the favourite ladies accessories option for women over 40 since it's the type of piece that can be worn with jeans or a formal gown depending on the occasion. Even if you just got two hours of sleep last night, some nice statement earrings will attract attention up and across the face, instantly making you seem fresh and young. Just make sure that whatever type of earring you may pick don't stretch out your earring hole or weigh your earlobe down.
Furthermore, the most essential styling accessory we can all agree on is to have at least one high-quality bag in your closet, made of exquisite leather and well-finished. Fabulous bags are instantly recognizable – and not because of the price tag: these are the bags that, even without displaying any luxury label, catch our attention when we see them on another lady.
Because they are absolutely stunning, they'll easily boost your entire ensemble. You'll undoubtedly appreciate the value of having one great bag that fits it all, whether you're juggling kids or rushing from one business meeting to the next. We're talking about your wallet, hand sanitiser, a spare pair of shoes, your laptop, a few snacks, and three different lipstick colours. What's the good news? You may go with any carryall style you choose, whether it's a sleek tote or a laid-back boho silhouette. You're okay to go as long as it looks decent on your shoulder and can be zipped shut.
The last but not least on the ladies accessories checklist are scarves. For decades, women of a certain age have been urged to own a few beautiful scarves, to use them to add colour and flair to our ensembles, to knot one in our hair, around our waist and whatnot. By bringing in different colours, patterns, and textures, a well-chosen scarf can instantly improve any clothing, no matter how basic. Scarves allow you to experiment with different patterns and colours that you would shy away from in a shirt or skirt. While many people think of scarves as something to wear in the fall and winter to keep warm, they can also be used all year to add elegance to your wardrobe. Lightweight scarves may be used in the summer to tie all of the colours in your summer attire together.
In the end, trendiness has no age limit, so don't feel obligated to adopt a more modest or timeless look if it doesn't seem right to you. The concept of "flattering" clothing is largely subjective, what you think looks excellent could not seem appealing to someone else. With that in mind, don't let the need to "flatter" your body or cover troublesome regions determine your wardrobe choices. Finally, dress to flatter your own unique style and body type, and you'll always look great and confident at the same time.