Essential Cordless Outdoor Tools to Step Up Your Gardening Game
The garden is an extension of the home and it's such a shame that people often neglect it. It affects the way you feel when you're outdoors and it creates the first impression of the house for any guest. A clean and beautiful garden space can be the escape where you can go to unwind and enjoy a cup of coffee or tea, by yourself or with family and friends.
To create a soothing ambient in your garden you need to properly design it and maintain it. Choosing strong and durable outdoor furniture, planting a lot of plants and implementing trendy and creative décor tweaks are just a few steps for designing a beautiful garden. And in order to maintain your idyllic landscape, a few outdoor power tools will definitely come in handy.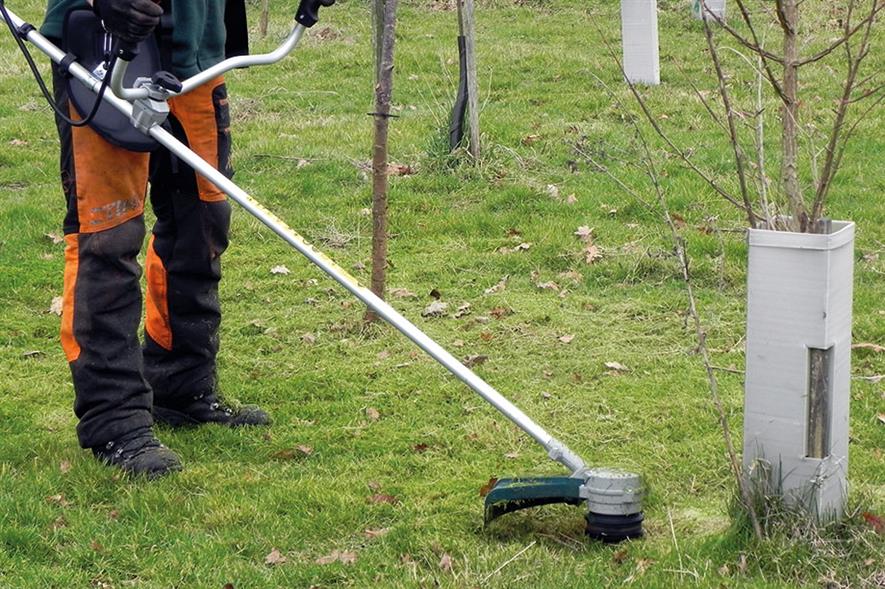 3 Must-Have Outdoor Power Tools for a Manicured Garden Space
Chainsaw
I'm sure a lot of you have never imagined using a chainsaw for gardening. Surprisingly, this powerful tool is perfect for keeping your plants and evergreen trees in shape, as well as trying out some creative DIY projects for your garden.
The chainsaw is made up of two parts – the saw blade and the engine. The saw is made of sharp teeth that move around a metal glide with the help of the engine. The two types of chainsaw engines are – electric and two-stroke gasoline engine. Electric engines are either powered by cord or by batteries.
The cordless chainsaws are some of the most practical outdoor power tools on the market. Compared to the other types, they're significantly less noisy and easier to use. This means you don't have to worry about disturbing your neighbours when pruning your trees early in the morning. It also makes it more comfortable for you to use this tool, although a pair of ear defenders and eye protection are always welcomed.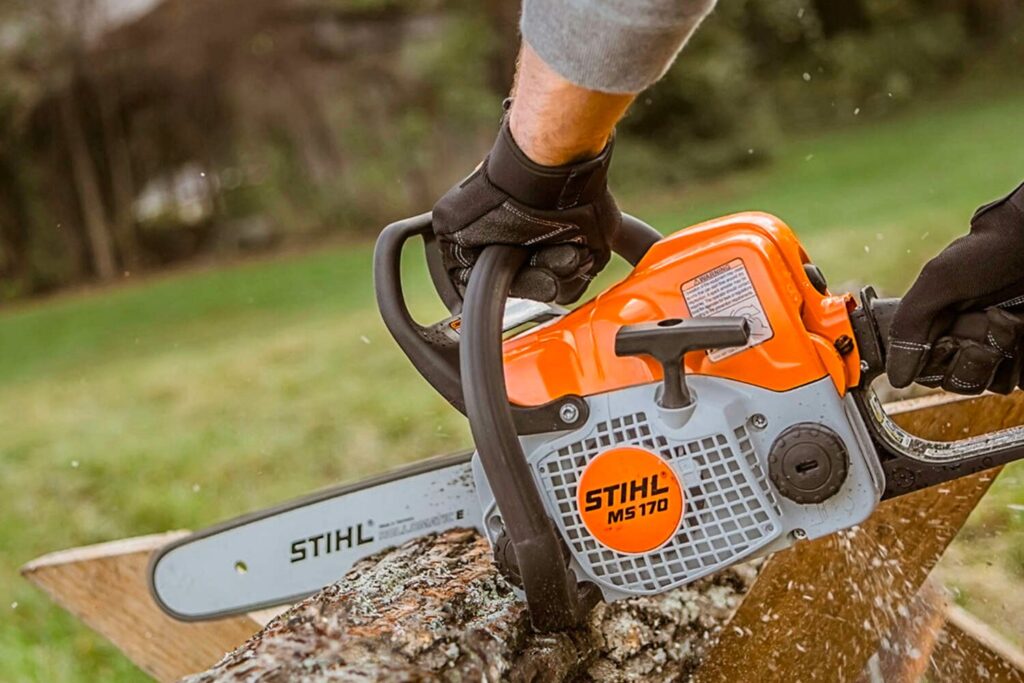 These chainsaws are lightweight and come with a powerful battery. This eliminates the need for a long annoying electrical cord that often gets tangled up and leaves you prone to accidents.
Cordless chainsaws are significantly better than petrol-powered tools because they're cleaner, vibrate less and don't create toxic emissions. They're also far safer – they have a mechanical kick-back brake and lubrication to keep the chain running as it should.
Workers that operate bigger chainsaws often need a license to prove they can operate one safely. While you don't need a license for your cordless chainsaw, there's a lot of things you can learn from these professionals. In order to avoid serious accidents or injuries, to use this tool you need to have some preparation. Here is some useful advice to get you started:
To operate a chainsaw, you need to be physically fit and mentally alert.
Clean and charge your chainsaw regularly for safe and optimal performance.
Use a balanced and comfortable position.
Avoid using chainsaws from a ladder if you don't have the training.
Leaf Blower
The autumn season is slowly approaching, and with it – the colourful autumn leaves. While they create a colourful sight when still on the trees, they tend to become annoying when they fall on the ground in big volumes and start blocking garden pathways, the road and the driveway. A quality leaf blower will help you easily take care of these annoying leaves, as well as grass cuttings and other debris.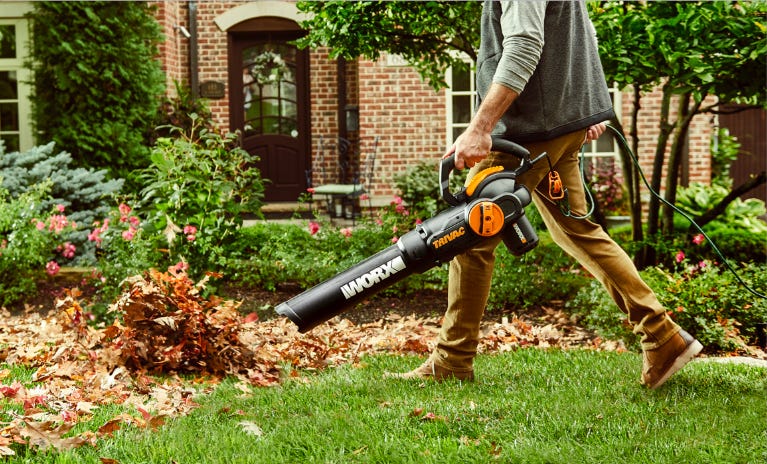 Leaf blowers are a necessity for those who are serious about their gardening. They can be either corded or cordless. The latter has several advantages over its corded counterpart, as well as the gas-powered leaf blowers:
You have freedom to move. Similar to the problem with corded chainsaws – corded leaf blowers limit your movement because they depend on an electricity source. Additionally, the cords often get tangled up and cause inconvenience and even injuries. With the cordless leaf blowers run on a battery, which allows you to freely move around and get the job done even faster. Similarly, gas-powered blowers are also cordless; however, they emit carbon monoxide, which is harmful for the environment.

Low-noise and ray power. Cordless leaf blowers are efficient garden power tools that offer the same performance as the corded blowers. What makes them better is the fact that they create significantly less noise.

Easy to use. Cordless leaf blowers are lightweight are easy to get the hang of. They get the job done fast, so you don't need to spend hours hunched over and pumping your arms while using other tools. They're also more cost-efficient compared to calling a professional service provider every time you need your outdoors cleaned up.
Line Trimmer
When it comes to lawn maintenance, the first thing that often comes to our minds are the lawn mowers. Many people tend to forget the importance and convenience of using a cordless line trimmer. This outdoor power tool performs tasks that the traditional lawn mower isn't able to. It makes gardening less of a tiresome physical activity, and more of an enjoyable one.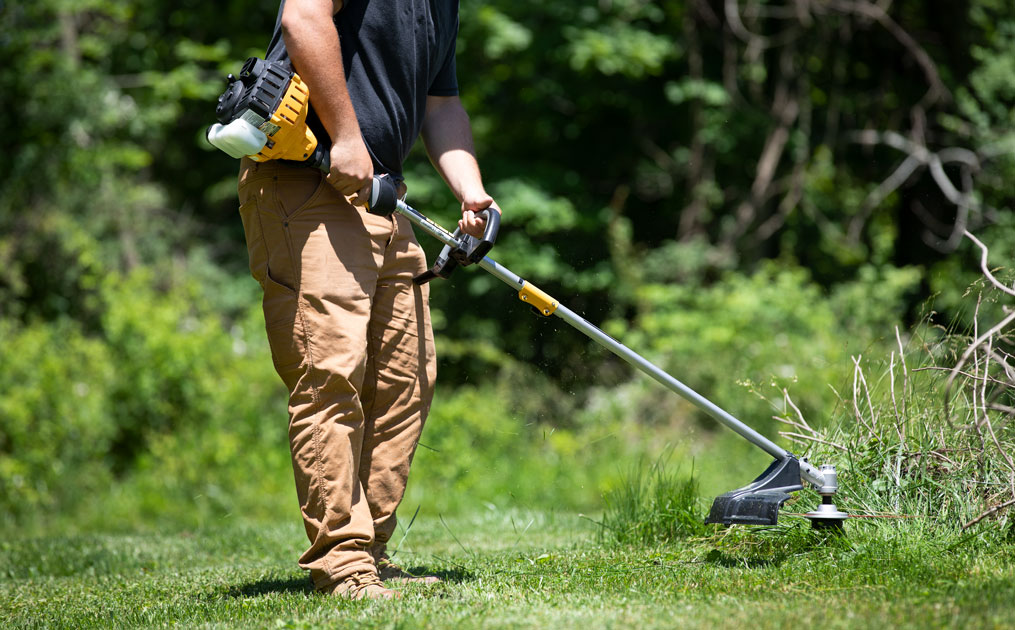 These tools help with cutting grass in more difficult and harder to reach places. They're also ideal for edging and removing light bushes. As with most of the garden power equipment, it's best to keep people and animals at least 10 metres away while using your line trimmer. Wear protective clothing and a dust mask to protect yourself as well.