Hard Yakka Workwear: Quality, Toughness and Durability in One
Workwear should be durable and protective, and depending on the industry you are working in, there may be a need for PPE clothing. It's designed to protect workers from wear and tear, but also it includes flame-resistant items and/or high visibility clothing.
Originally, this type of clothing was made for working in, whether in a factory, forest or mine, but what started as safety clothing for workers, over time became a utility trend. It's usually made from materials such as cotton, polyester, or blended fabrics that are durable, washable and long-lasting. Workwear is functional and hardy clothing, yet easy to style.
Modern pieces of workwear clothing can be seen as part of modern men and women wardrobes. Each piece is designed with a purpose in mind and everything that's added to it is there for a reason, including from the fabric to the zips, the pockets and more. If you are looking for an Australian made range, look no further than Hard Yakka, true blue workwear for both men and women.
Why Choose Hard Yakka Workwear?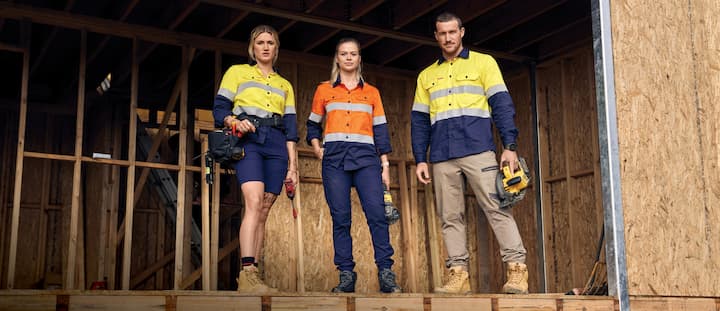 This is one of the most recognised brands in the country, an Aussie staple offering a wide collection of workwear. The term yakka comes from an Aboriginal word for work and for more than 80 years, this brand has been iconic Aussie workwear, always associated with quality and durability. The importance of buying Australian made products is their integrity, craftsmanship and the people behind them.
Hard Yakka was founded by David K. Laidlaw back in 1935 out of his parents' home in Brunswick. Since then, it has been leading the way in innovative workwear, striving to meet the ever-changing demands of Aussie hardworking people.
So, if you are looking for a workwear brand that has stood the test of time, you can hardly get anything better than this one. You can choose from a huge range of premium quality workwear suitable for various work settings. It's comfortable and safe and is built both tough and durable.
There is a list of products featured within their ranges, such as 3056, Legends, Koolgear, Extreme Legends, Engineered and Foundations. In these ranges, you can find anything from pants and shorts to shirts, polos, vests and jackets and Hi-Vis gear. The following are some of the main qualities these products feature.
Waterproof
Waterproof fabrics are used for constructing the garments and they have been seam-sealed to prevent water from penetrating inside the clothing piece.
Triple Seams
Triple stitching helps with the garment's reinforcement in stress points, making it extremely tough and durably.
Moisture Management and Breathability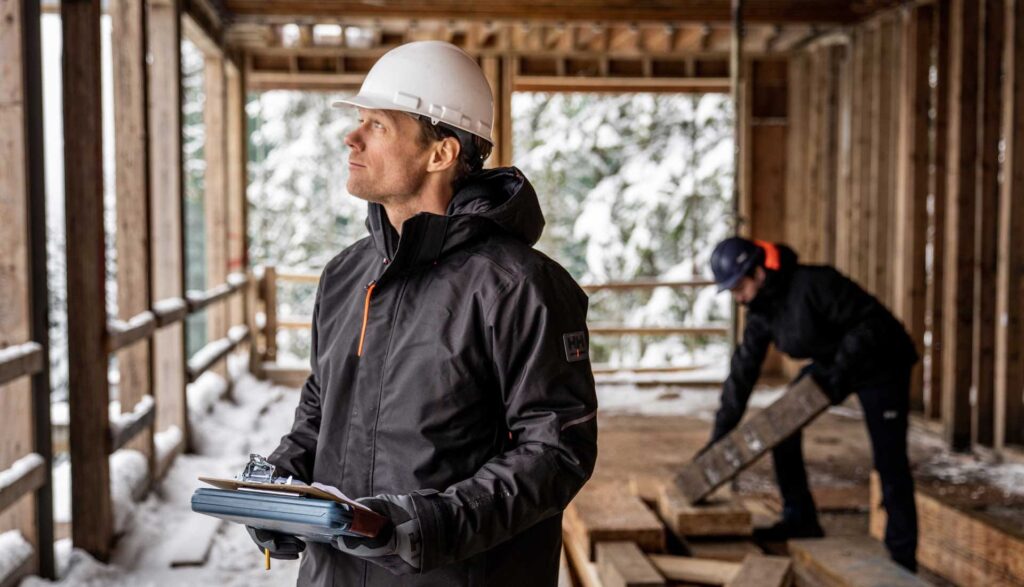 Made from moisture-wicking and quick-drying fabrics that keep you dry and comfortable. Additionally, most of the garments have a durable water repellent that sheds water from their surface. Also, Hard Yakka workwear features fabrics with naturally breathable properties that can keep you cool and comfortable for a long time.
UPF Rating
UPF stands for an Ultraviolet Protection Factor rating and garments with a 50+ rating ensure excellent protection.

Antimicrobial
To minimise bacteria and odour, you can choose Hard Yakka's range of workwear clothing treated with an antimicrobial finish, so you can stay fresh after a long day at work.
Cool Flow
To allow air to flow through your body, there is engineered ventilation placed in high heat zones. It improves breathability and can keep you cool and comfortable for many hours.
Easy Care
Hard Yakka workwear is easy to care for and you will have to invest minimal effort if you want to keep your garments looking good for longer.
Hi-Visibility
High visibility material encircles the upper torso and you can find garments designed for daytime use only, for use in day, night, dawn and/or dusk and in poor weather conditions or garments for night use.
Knee Pad Pockets
There is an inbuilt provision allowing knee pads to be inserted into the pants and held in place.
Stretch
It creates the feeling of ultimate comfort, allowing a full range of movement, regardless of the task.
Hard Yakka Footwear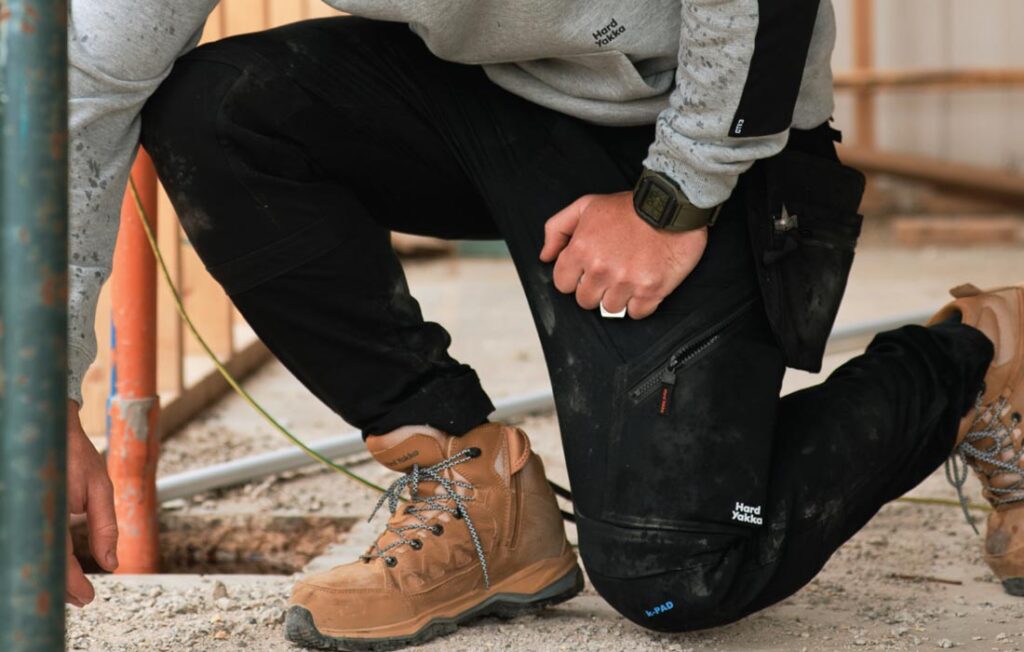 When it comes to boots, the truth is that everybody needs a quality, durable pair of work boots, especially for the winter months when sturdy footwear that can withstand rain or snow is more than welcome. When it comes to the workplace, you want to stay safe and choose the optimal work boots. 
This type of boots is intended for safety and is made of sturdy materials that repel rain, mud and chemicals and many of them are designed with built-in steel caps over the toes to protect workers from hard falling objects. 
In the 1990s, the brand introduced a range of safety and non-safety footwear, designed to match the quality of its well-known workwear. Today, you can find a range of work boots, available in a range of styles and colours, from lace-up boots to elastic pull-on to ZIP/BDA work boots and sports shoes.
Also, there is a range of accessories you can choose, from, including socks, belts, kneepads, gloves and headwear to keep you looking stylish, yet safe and protected while at the workplace. All of these products are made with the highest standards of quality and durability in mind and are designed to keep up with the latest fashion trends.