Rifle Flashlight: The Best Ally for Fight or Flight Situations
As any professional security guard or a police officer will tell you, the lighting is a very important aspect on which a lot of crucial missions depend. Maybe thermal and night vision goggles will do fine when they are used in outdoors conditions, but when it comes to investigating suspicious buildings you will need to own the right tool – a rifle flashlight. This flashlight is of great importance for situations when you are in close range proximity and have the need to identify wheter the target is a friend or foe – this can simply mean the difference between a failure and success.
Police officers and army personnel learn all sorts of techniques during training in regard to defence and attack and this is when they use rifle flashlights alot, but they can also be used in some occasions as an effective weapon. Their great durability and weight can incapacitate the target and prevent unnecessary bloodshed. In this article, we will go through the best models of rifle flashlights that are available on the market so you can easily make your decision when you are going to upgrade your personal equipment.
Nitecore MH41 2150 lumen XHP50 rechargeable LED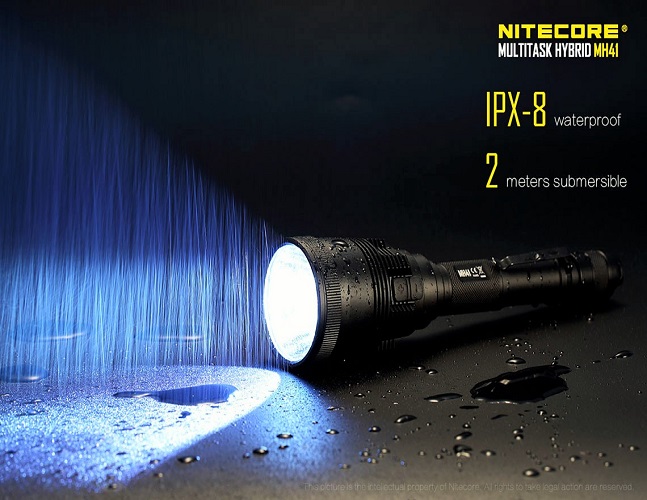 Nitecore is making contant upgrade through the years, when it comes to their rechargeable gun: their newest and finest edition is MH41! It is a LED light that weighs 321grams and has 2150 lumen power which offers you wide and powerful beam that can stretch out up to 500 meters. MH41 features micro-textured reflector, advanced temperature regulation and power indicator built and it is equipped with two 18650 batteries and rechargeable lithium batteries. There are three special modes: Strobe, S.O.S. and Location Beacon mode. With the flashlight you will also get nylon holster, tactical ring, charger and batteries, spare-o-ring and much more. This rifle flashlight is one of the best types available on the market and you can rest assure that choosing this one for your line of work is the right thing to do!
Olight M3XS-UT Javelot Ultra Throw 1km range LED torch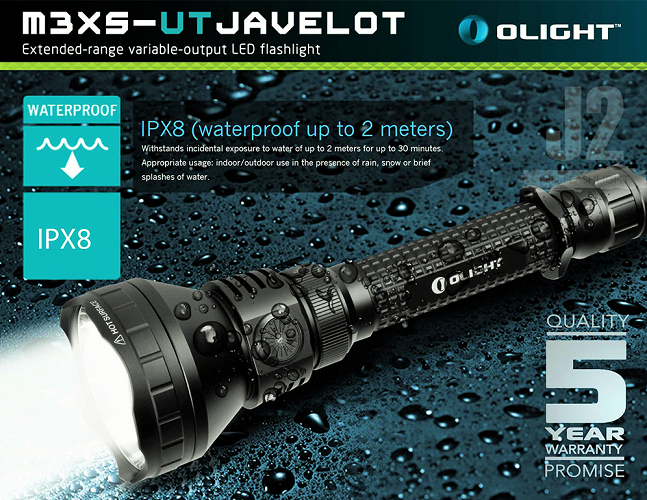 Olight M3XS-UT offers you 1200 lumen that can stretch up to 1 km of beam distance! These astonishing capabilities are most suitable for the special forces or any army personal. Since it weighs just 255 grams and is made of aircraft-grade aluminium, it can help the user during rescue missions, outdoor tasks or emergency situations. The main features of this gun flashlight are: waterproofness; impact rating 1 meter; LED Cree XP Light with high intensity, Compatible batteries and much more! When you buy this flashlight you won't receive any batteries, but you will get 2 spare-o-rings, extension tube, battery magazine and a custom holster.
ThruNite Catapult V5 UT long throw 837m LED torch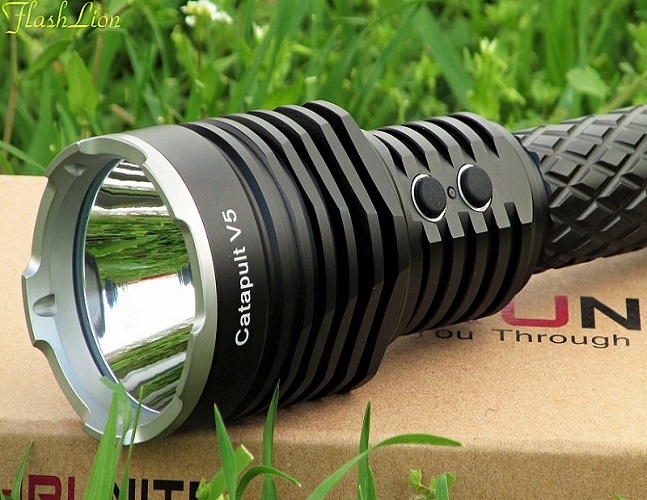 ThryNite V5 UT is the perfect tourch light for security guards and hunters. Equipped with a CREE XP-L HI, this LED light has a beam distance up to 837 meters with a white pure light. This is not just a flashlight, but also a very heavy duty weapon – weighing 516grams, to be exact. There are two side switches and a wide range of colour indicating lights as to give the user full control. The Cataputl V5 is a durable and realible flashlight for any type of situation, therefore, for those who are looking for a powerful light and thrower the Catapult V5 is your perfect choice. The main features of this rifle flashlight are: highly adaptable CREE XP-L light, stainless steel base, smooth reflector, ultra-clean glass, aircraft-grade strucutre and much more.