Create the Ideal Dining Experience – Tips on Choosing an Outdoor Dining Set
Whether it is your home or rental property that needs a boost in both aesthetics and functionality, buying an outdoor dining set is a great way to express your style and create your ideal dining experience. Buying an outdoor set that you really like will provide you with years of comfortable lounging and will give your outdoor area that much-needed "wow factor".
Creating the perfect dining ambiance is an art in itself – it is a balanced mix between making the mood-boosting drinks, cooking up the delicious meal, gathering your favorite crowd and lounging in the comfiest pieces of outdoor furniture. And while I'm sure you already know what's your friends' favorite thing to eat, when it comes to choosing the perfect dining set, things may be a bit more complicated.
Choose the Best Outdoor Chairs for Your Space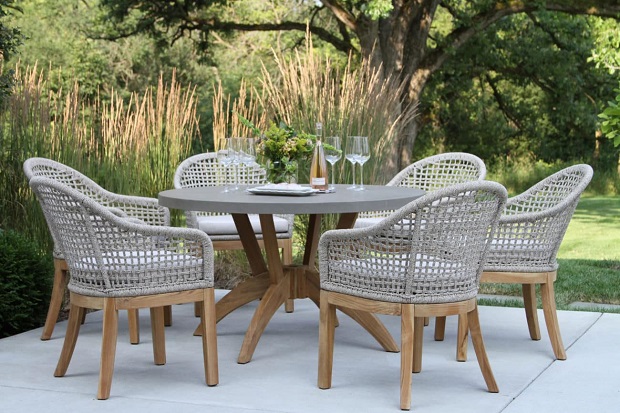 When hanging out, you and your guests will spend a lot of time sitting and unwinding in your outdoor chairs, which is why choosing the right model is important. A good piece of advice is to buy dining chairs in pairs of two. This way, if you want, you can get a couple of chairs in one design and a couple of chairs in another to create a more dramatic look.
If you want something simple, you can always go with a complete set – a dining table and two, four or six matching outdoor chairs. For the ultimate comfort, the chairs should match the height of the dining table. Also, keep in mind how much space you'll need to leave so that people can move easily around and between the chairs. Style and colour are other important considerations to keep in mind as they should complement your dining table's style and the one of your outdoor space.
The Proper Dining Table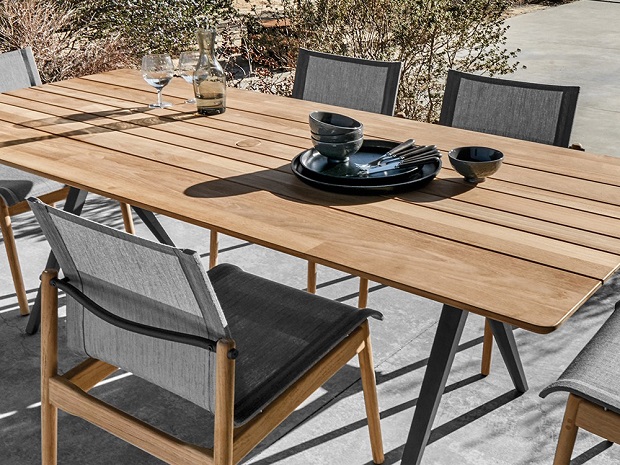 The table will be the centrepiece of your outdoor dining area. Think about the ambience you want to create. Do you want something for formal dinners or you do you need something for informal gatherings? For a formal dining experience, you can choose a longer table with square or rounded ends. As for informal meetups, a round table would work perfectly.
Also, think about the number of people that will usually use the table and choose its size accordingly. It is always better to buy a bigger dining set than you normally need. Even if not that many people use the table every day, the extra space will make seating and moving around more comfortable.
Furthermore, choose the height carefully. Lower tables are better for relaxing but they are not so good for having dinner. Keep in mind the placement of the legs as that will determine how easy you can put the chairs in and sit. Size is crucial, so make sure you don't buy a dining table that is too big for your space. If you need to use an umbrella, get a table that has a hole in the middle.
What About the Material?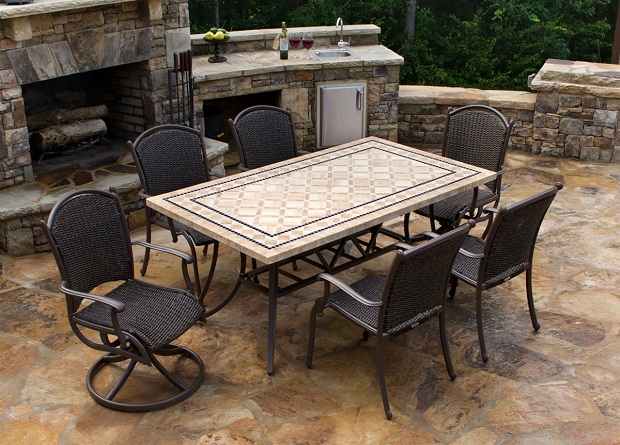 Dining sets can be made from different materials. Durability is an important consideration to keep in mind – think about how well the dining set could withstand the elements. The maintenance level is another aspect – does the material need to be frequently maintained or just occasionally? Also, how easy will the dining table be to move around? Price is another important factor – evaluate how much you are willing to spend and how much value for your money you'll get from that particular dining set.
Pine and Other Softwoods – Hardoowds are far more popular, but there are still some dining sets made of pine or other softwoods that are also good. These sets are cost-effective but they are not the most weather-resistant choice. They are not very durable, get easily dented or scratched and they don't respond well to spills. If you choose a dining set made from these materials, you should have it revarnished or restained regularly to keep it in good condition.
Oak and Other Hardwoods – Although hardwood sets are better than softwoods, they also have some downsides. Hardwoods are durable and resilient, thus they're more difficult to get damaged. They can withstand the elements but they need to be restained or revarnished regularly. Hot cups and plates can impact the surface of the wood, so you need to be careful when serving food. Having this in mind, hardwood dining sets can be a quite expensive choice.
Teak – This is a popular material for outdoor furniture. It is resilient, durable and produces its own oil. And since it is a hardwood, it is also hard to scratch or dent it. Teak is resistant to water, wind and rust and can be kept outside year 'round. Same as oak and other hardwoods, hot cups and plates can impact its surface and when it comes to colour, you have one choice only. It requires regular maintenance as it needs to be regularly rubbed down and treated to avoid "silver patina".
Wicker – Although it is often used for making outdoor furniture, that doesn't mean wicker is the most durable choice for outdoor use. This furniture looks beautiful but the material itself is not very resilient and can easily be damaged, especially if you are using your dining set a lot. It is lightweight, which means it is easy to move it but since it is woven – it can easily trap dirt into the gaps.
Aluminium – What makes this material such a popular choice for dining furniture is its durability and light weight. Also, aluminium is resilient, tough and easy to care for. It is completely weather-resistant, which means you can leave your dining set outside without worrying it will get damaged.
HDPE – High-Density Polyethylene is used for designing solid, durable and high-quality outdoor dining furniture. It is a bit expensive but that's a result of its great resilience, comfort and luxury. The surface of HDPE is resistant to spills and heat, which makes it the perfect material for a dining set. Available in a range of different colours, this contemporary outdoor seating will last you a lifetime.