Types Of Mixers Available Online
Nowadays, with the advanced technology and equipment, you can find different types of mixers available on the market. Some of them are specially designed for one application, while others are more flexible and functional with many options, like adjustable speed, replaceable shafts and impellers, and a large range of motor horsepower.
There are many online available stores that offer agitators and mixers from well known manufacturers. You just need to do a little research in order to find the most reliable online available store that offers agitators for sale. Take a look at some of the most popular and online available types of mixers which can be found at http://www.machines4u.com.au/, and on many other online available equipment stores that offer agitator and mixers, machinery equipment, machinery tools, affordable mixers and various agitators for sale.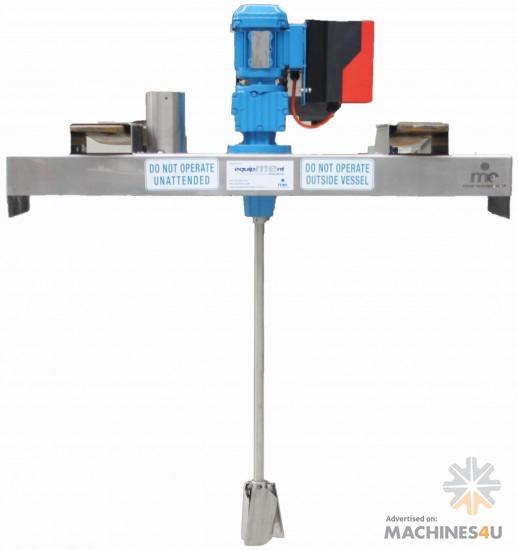 Aerator – Aerator is a mixer used to transform air into water, generally for biological waste treatment. It can work at the surface by splashing or it can be submerged with a sprage or a pipe, giving air to the impeller.
Air Mixer – Air agitators and mixers are motor devices that use air instead of electrical power. They are also known as air drive mixers or pneumatic mixers.
Bottom Entry – Bottom entry is a type of mixer that has a drive mounted on the bottom vessel head. The shaft of the mixer passes through the tank bottom, so it must be equipped with shaft seal.
Direct Drive – Direct drive mixers have an output shaft that rotates just like the shaft at the motor. These mixers are really simple and have a greater component of shear to the process.
Flocculator – These are relatively slow mixers, and are used for enhancing the contract of particles in suspensions in order to agglomerate them for easier separation or setting.
Disperser – Dispersers are mixers with special use. They include a high speed device with sharp edges, which is used to separate powders or particles, to suspend or dissolve them.
Homogenizer – Homogenizers are high speed mixers used for blending immiscible phases of some solutions into a cream or emulsion.
Gear Drive – The gear drive mixers have an output shaft which has lower speed when compared with the motor speed. These mixers are used for transmitting higher torque and have high pumping efficiency per horsepower.
Portable Mixers – These type of mixers are easy to use and can be easily removed from tank to tank. They are adjustable, convenient and easy to use.
Magnetic Drive Mixer – These mixer types have shaft and impellers which are driven by a magnet.
Sanitary Mixers – All sanitary mixers have driver component (gearbox and motor) that is made of stainless steel or other similar material. They are used in wash down and sanitary environments, and in a highly corrosive atmospheres.
Rotor Stator – These agitators and mixers use rotating impeller or a head inside a stationary cage or shroud.
Static Mixer – The static mixers have pipes with designed baffles inside that mix the fluids. These mixers do not have rotating or other moving parts.
Side – Entry Mixer – Side-Entry mixers are mounted on a flange through the side of a chest or a trunk, and are commonly used for tall tanks in order to reduce the capital cost.
Top – Entry Mixer – These mixers can be mounted on the rim, on a flange or beams, entering from the top of the tank.
All these mixers and agitators for sale can be purchased online from reputable equipment companies. In case you do not know any, ask for recommendation, or search online.