Different Rack Cabinets Available Online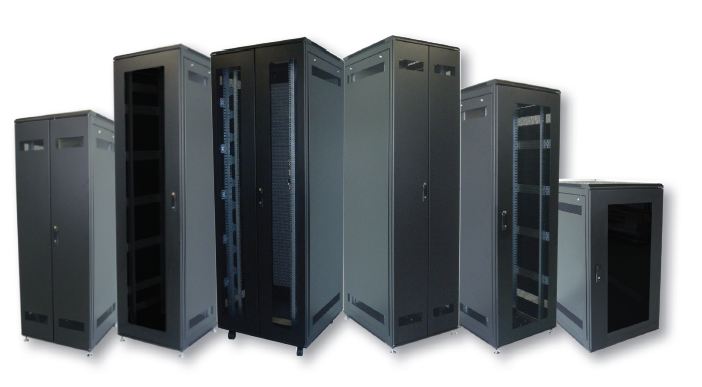 With so many rack cabinets on the market, it is hard to find the right one. In order to choose the rack cabinet that will satisfy your needs, you need to determine your requirements first. You can choose from rack mount cabinets, swing mount ones to floor cabinet racks, as a perfect solution for storing your IT equipment. Cabinet racks minimize the space required for the devices that you are going to use and include special cooling systems to protect your IT gear from excessive heat. You will be able to find various rack cabinets that will simplify the cabling process and provide uninterrupted power. Here are few of the most popular cabinet racks available online.
Rack Mount Cabinets – This rack cabinet type is ideal for storing several devices at one place. The rack mount cabinets save space, as they can be mounted where you want. You can find wall mount cabinet racks that come with 4, 6 and 9 rack units with different dimensions depending on your needs. Out of all rack cabinets available online, the 4RU 300 mm deep wall mount cabinet and the 6RU 300 mm rack cabinet are the most popular ones. With capability to hold up devices up to 180 kg, these racks cabinets are ideal for storing routers, DVRs, patch panels, switches and other network equipment. With these rack cabinets, you could easily access and secure the equipment stored, due to the removable and lockable side panels. Not only that you will secure the access to any information, but will also protect your equipment with vented front and side locks, and pre-punched holes.
Swing Mount Cabinets – If you are looking for high quality steel cabinet racks, then you will find the swing mount cabinets a perfect solution for getting your network run fast. Depending on your needs, you can find swing cabinet racks with 6, 9, 12, 15,18, and 24 rack units with different dimensions that are ideal for storing your network equipment. These rack cabinets allow easy access to all four sides of the installed equipment. With removable side panels and 100 mm hinged swing frame, these swing mount cabinet racks provide better access to your network and communication equipment. 27RU 600 mm deep wall mount cabinet is the most popular rack cabinet with the swing frame. This model is capable of holding 180 kg, and comes with adjustable shelves.
Floor Standing Cabinets – Even though the floor standing cabinets are not mountable like other cabinet racks, still these racks are ideal for your home network equipment. What makes these cabinet racks different from the mountable ones, is their capability to hold up to 700 kg. The most popular rack cabinet available online is the 45RU wide cabinet rack that comes with dimensions: 2188 (h) x 800 (w) x 1200 (d). With 19" adjustable rails (front and back), and reversible front tempered glass door, this rack cabinet is a perfect choice for storing small, medium and large servers. Depending on your specific requirements, you can choose floor standing cabinets with 18, 22, 27, 37, and 42 rack units available online.