Popular Grader Attachment Manufacturers Available Online
A grader is a piece of construction equipment used for creating a smooth finish to a particular surface. The grader is very common tool in landscaping, road construction and asphalt construction projects, as it efficiently creates a flat surface. Also, the graders are attachment supportive for completing a variety of tasks. There are many grader and grader attachments manufacturers on the market who offer different products with different capacities. Here are the most popular manufacturers of graders and grader attachments available online: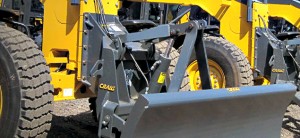 Grouser Products
Grouser Products offers a wide range of grader attachments, but the most popular is the Belly Blade. With a quick-attach system and six functions, the Belly Blade can complete any task on the job site. The Belly Blade offers great accuracy, time and labor savings, lower operating costs and ease of operation. This attachment is certainly all you need for grading applications.
Craig Manufacturing Ltd.
Craig Manufacturing Ltd. is a well-known manufacturer of grader attachments. The best selling attachment from this manufacturer is the Series II Windrow Eliminator, an exceptional attachment for reclaiming road shoulder. The Series II Windrow Eliminator completely eliminates the need for additional passes on the ground, which saves a valuable time and energy in the process. It features a reversible and replaceable steel cutting edge and four different angle adjustments up to 45 degrees.
Roadrunner Construction Equipment
The Roadrunner grading blade is one of the most popular grader attachments available online. It has a serrated cutting edge which penetrates through various materials and it cannot be damaged easily. The Roadrunner grading blade provides excellent smooth leveling results on the ground.
Weldco-Beales MFG
The mastless snow wing by Weldco-Beales MFG is one of the best grader attachments, as it provides both hydraulic and mechanical float at discharge. Increased life cycle and simple operation, the mastless snow wing is designed to grade even on uneven and rough terrains. The design is very compact which significantly improves the blade angle of the grader during operations.
Handy Hitch MFG – Handy Hitch MFG design and produce grader attachments with compaction widths ranging from 2.3 meters to 3 meters. These grader attachments guarantee reduced grader usage by up to 30%, and lower fuel consumption. Also, they all come with a central accumulator system for more precise down pressure.