All About Pool Lights
A well-designed swimming pool isn't just a creatively shaped hole filled with water. It has the power to turn your space into an elegant outdoor oasis. Variations of waterfalls, vanishing edges and lights, all of these can make your swimming pool the favourite part of your home. It can serve as an inviting and relaxing centerpiece in your backyard where you can have the time of your life while throwing parties and entertaining your loved ones.
When it comes to its design, lights are an important factor. This is because pools aren't used just during daytime but also at night when there is no natural light. Hence, it is essential that you install the right kind of lights in specific locations to decrease the chances of accidents and enhance the look of your pool while creating a nice calming and peaceful atmosphere you will look forward to enjoying every night.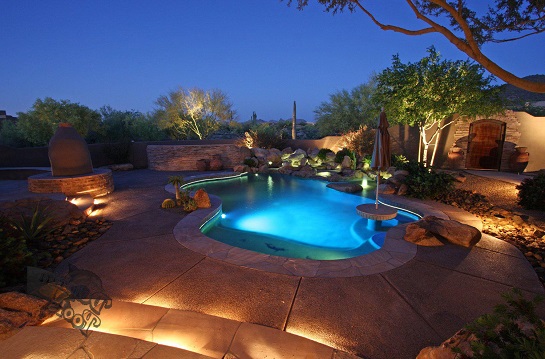 Pool lights come in many different types and each type differs in the level of energy savings, colours available as well as heat output. But if you thought that you have to spend a small fortune to achieve a glamorous effect in your pool, you are so wrong; expensive does not necessarily mean high quality. Today, there is a great range of cheap pool lights that can instantly enhance the look of any pool area while making the space much more functional.
Anyway, regardless whether you decide to go with cheap pool lights or expensive ones, it is important to keep a number of factors in mind. Take a look at my suggestions.
Choosing the right light for your pool
First of all, you will have to decide what type of lights to buy. For that, take into consideration the fittings in your pool. Most modern pools tend to accept either 12 or 120 volt traditional and LED lights. However, lights that are classified as 120 volts are often used only in big pools or pools that feature an out-of-date electrical system. Keep in mind that just like traditional lights, LED lights are also available in 12 and 120-volt versions. When shopping for 12-volt pool lights, it is important to check light fittings to know what size of bulb base they accept – whether a small, medium, or a large base.
The advantages of LED pool lights
LED pool lights are getting increasingly popular due to their much longer lifespan and tendency to burn brighter than traditional 12-volts bulbs. Just like traditional lights, LED lights are also rated 12 or 120 volts. LED pool lights come in a variety of colours and this is considered among one of their biggest advantages. Classified as color-changing pool lights, these are perfect for people who enjoy entertaining at the poolside. They can be also set to change their colours according to different patterns and rhythms. When buying LED pool lights, it is important that you understand the differences between floating pool lights and LED lights designed to be installed in underwater fixtures.
Generally, pool lights consume very little energy. Plus, the average 12-volt underwater pool light can run for more than 1,000 hours before it needs to be replaced. To cut down on electricity or to extend its lifespan, consider placing your pool light on a pool light timer. In some cases, these timers can also control pumps, filters, and other essential pool functions.