Interior Décor that Inspires: Inject Tribal Fusion into Your Home
While it might seem like you must possess the skills that professional designers have to be able to make the most of your interior décor, just watch some of the best home decorating TV shows, and you'd get a lesson or two as to the easy ways you can transform your abode that won't significantly affect your budget. If you want to play the role of an interior designer perfectly, all you have to do is turn to trends that last. One of them has got to be the tribal style home décor. It's already been present for years, and is here to stay for years to come.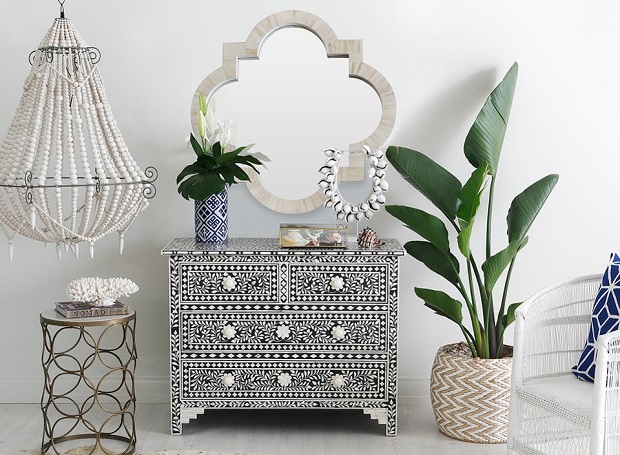 The reason tribal style has gained many praises worldwide is because it can instantly give your home its spark back, bringing warmth along. Of course, there's also the reason tribal style goes perfectly well with any other styles and aesthetic pieces, from the more simple yet sophisticated modern styles like the Scandinavian, and coastal, to classic, and vintage. When you want to bring the vibrant patterns, designs, and colours of tribal style, you can start by furniture pieces. If you don't feel like experimenting on a large scale, bring in the charms of Indian style chest of drawers, Malawi chair or oriental urns and pots.
Don't stop there. The greater effect can be created when you add more tribal pieces so that you create a multi-dimensional home, full of layers, textures, and colours. What's specific about tribal elements is they're mostly handcrafted, which means you decorate your home with respect and value for the people who made those elements, and their culture. An Indian style chest of drawers for instance can provide enough space for more storage in your home, and further inspire you to amp up the tribal vibration in your surroundings either by placing some handcrafted ornaments, for example animals, or start creating layers by including floor coverings in the likes of handwoven Moroccan or Anatolian rugs, and cushions, that would help you create warm and intimate atmosphere.
Don't be afraid to use the help of some decoration too. Feathers, wooden masks, metallic elements, anything that catches your eye. Beware, however, the key to successful tribal influenced interior décor outcome is not to overdo it because there are those patterns and colours that don't really match, so it's important to stick to a number of carefully selected pieces you know would look well together to accentuate this style properly. A bonus of this style is just when you inject it home, you're going to get inspired to get to know more of the world, and the diversity of cultures by travelling and bringing some more tribal elements from your trips.