How to Find the Most Suitable Canopy for Your Mitsubishi Triton
Not only is Mitsubishi's Triton one of the most recognizable utes in Australia, but it's also one of the most sought-after by tradies and off-roaders. That's because they're rugged, affordable, and boast a payload capacity that allows them to be excellent candidates for canopy and tray upgrades.
The Triton's notoriously stubby tub is the reason why canopy and tray upgrades are so popular with their owners. A well-thought-out upgrade can effectively double the volume of cargo a Triton can carry without even coming close to its GVM; that's a claim that only a handful of 4WDs anywhere in the world can make.
That's also why it's no surprise that there's such a broad range of pre-configured Triton upgrade packages available for owners to choose from. For owners, these packages take the headache out of having to decide what they want on their utes, allowing them to stay focused on why they needed a Triton in the first place.
New Canopy Packages for Mitsubishi Triton Owners
Let's be honest: while there's no shortage of ute canopy and tray packages, the range of Mitsubishi Triton canopies and trays is certainly among the most exciting. With the Triton's shorter wheelbase, a well-designed canopy gives it a look that's even more muscular than normal. The real advantage, however, is in payload, as the Triton's able to "tow and go" is already well above the vast majority of its mid-sized contemporaries.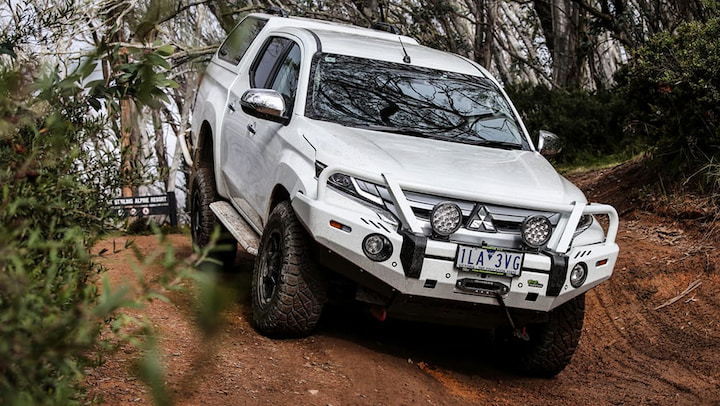 These durable Mitsubishi Triton canopy and tray packages, known as S10s, S11s, and S12s, are designed to fit the full range of Triton models, including MN / ML, MQ, and MR. And they bolt directly onto the Triton frame in place of the factory tub, which helps makes them easy to remove or replace when the decision's made to move up to a newer Triton model.
Aluminium Trays That Add Backbone to Your Package
Every upgrade package begins with the tray, and a stout 1780mm x 1800mm Triton ute tray made from 3.5mm checker plate, or flat plate aluminium stock is the optimal starting point. These lightweight, corrosion-resistant platforms are built to handle anything you can set on one; and together with their 5mm TIG-welded C-channel main-, and RHS sub-frame form a rigid tray backbone that won't flex or twist, regardless of what it's subjected to.
These tough aluminium ute tray platforms also feature:
· Either standard-, or flared-width mudguards;
· A choice of rectangular, or 3-strip LED taillights; and,
· AutoLED number plate lights.
No matter which S-package you choose, you can count on these heavy-duty Triton tray platforms to give you all the support you need. And if your Triton is equipped with a rear-facing camera or reversing sensors, these trays can also be outfitted to support them.
Hardworking S10 Packages That Tradies Trust
It's no secret that Tritons are one of the most tradie-friendly vehicles in Australia. They're adaptable, all-round utes that can haul tools or raw materials anywhere you need them. That's why the S10 Mitsubishi Triton tray and canopy package is the preference for craftsmen who want a no-nonsense vehicle that's ready to work just as hard as they do.
S10 Triton ute canopies are based on a 1780mm x 1800mm shell made from 2.5mm checkerplate aluminium stock, and feature full TIG-welded sides, and reinforced roof and door bracing for tradie-grade stability.
And these scratch-resistant S10 Triton canopies stand behind their hardworking credentials with an array of additional features that include:
· Locking 3-door access with waterproof seals;
· A full-length 2500mm aluminium roof rack;
· A 1700mm under-tray trundle drawer;
· 32mm rope tie-down tubes; and,
· Taper-style under tray tool boxes.
Make no mistake: S10s are one of the most comprehensive baseline packages of tradie-oriented Triton canopies for sale in Australia. It's a rugged, minimalist package that gives craftsmen the space to customize the unit according to their unique requirements.
Work and Recreation Come Easily With S11 Packages
A big part of the Triton's appeal is that while it's built for putting in a hard day on the job site, it's just as capable of getting you to your campsite. There aren't too many utes that can handle both tasks equally well, but the S11 Triton tray and canopy package is perfect for owners who use their vehicles for equal measures of work and recreation.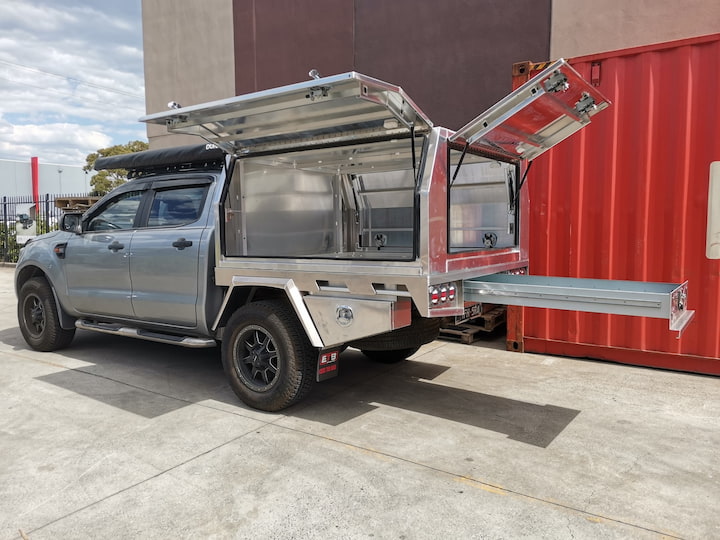 The S11 borrows heavily from the S10's 3-door, 1780mm x 1800mm Triton aluminium canopy build specs, but opts for powder-coated flat plate aluminium stock instead of checkerplate. The S11 also replaces the S10's standard 2500mm roof rack with a roller-equipped rack that makes it easier to load large, or oversized recreational equipment, such as:
· Kayaks and surfboards;
· Rafts and canoes; and,
· Skiing equipment or bikes.
The S11 is unmistakably a Triton ute canopy package that's designed for all-round, on and off the road service. However, when it comes to outfitting Tritons for the best possible off-road experience, it still needs to go a step beyond the S11. Now it's venturing into S12 territory.
Ready for Some Serious Off-roading With the S12 Package
Although the S12 Triton canopy package utilizes the same 1780mm x 1800mm dimensions and builds characteristics that are used on the S10 and S11, there's no ambiguity about the S12 being a serious off-road package. And while it also retains the S10's 2500mm roof ladder, it also adds its own short list of off-road accessories, including:
· An aluminium jerry can holder;
· An 850mm aluminium rear ladder; and,
· A heavy-duty spare wheel carrier.
And while owners can always have their flat plate aluminium S12 Triton tray canopy powder coated, it's also the one Triton canopy for sale that's intentionally been left raw and untextured. This way, users have the opportunity to weld or mount additional off-road accessories onto the S12 canopy without damaging a costly surface covering. It's the proper approach for a canopy that's likely to spend a lot of time in the bush.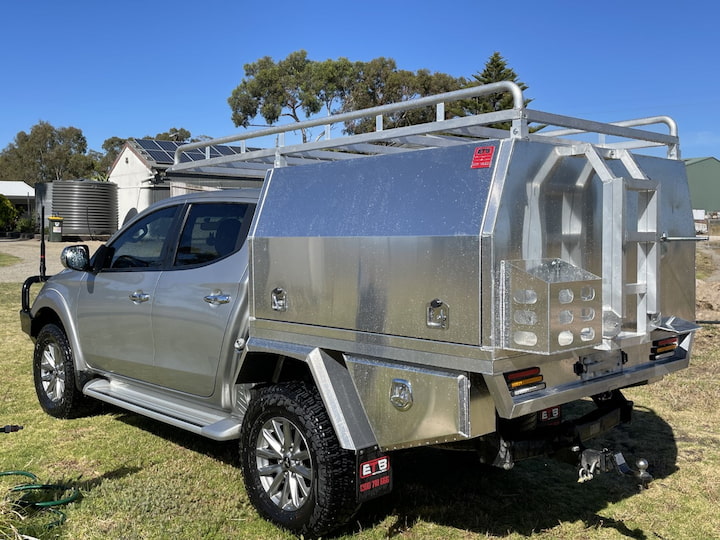 The Final Word
At the end of the day, Mitsubishi's Triton is rightfully regarded as one of the most capable 4WDs ever sold. The fact that they're markedly short on cargo space doesn't diminish how impressive they are; it just means that they can benefit from some help increasing their cargo volume.
Fortunately, there's a wide range of Mitsubishi Triton canopies and trays already available to give these powerful utes the cargo capacity they need. Whether it's for work, recreation, or a mix of both, the right solution is only a click away.