Hans Wegner Chairs for a Beautifully Sculpted Home Design
If you're looking to redecorate your home with minimalist housewares and furnishings then you might want to consider getting some Danish modern furniture pieces. This style originated in Denmark in the early to mid 20th centuries. This style is incredibly popular nowadays and is commonly sought after due to their elegant simplicity, yet sophisticated style. The Danish modern is best known for its functionality and organic form which combine to provide objects in the home a timeless appeal.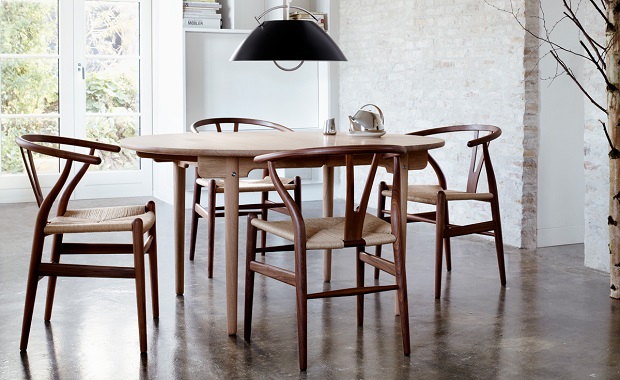 In this article, we'll focus on chairs specifically, the designs of Hans Wegner in particular. Hans Wegner's name is a synonym to Danish design world wide, and as aforementioned, the seemingly simply designed chairs help a lot of users in Australia get newfound appreciation for the Scandinavian modern design. Let's highlight some of his best designed chairs that can add comfort, functionality and appeal in almost any room in the home.
The Wishbone Chair
The last and arguably most famous chair Hans Wegner designed was the Wishbone. It was specifically designed for Carl Hansen & Søn in 1949 and it combined top rails and arms into a single piece. The Hans Wegner Wishbone was inspired by the Chinese Ming Dynasty chairs. Carl Hansen & Søn was looking for a lightweight chair which was uncommon at the time, and Hans Wegner took a leap of fair which obviously paid off. The Hans Wegner Wishbone is incredibly comfortable and offers exceptional back support due to its design which features a steam-bend solid wood top which is connected to a Y-shaped back.
The Shell Chair
Another popular Hans Wegner chair is his Shell Chair. Even though three legged chairs were reluctantly accepted by the public at first, the reintroduction in 1998 of the Hans Wegner Shell Chair become an instant classic due to it's appealing airy, wavy design. It features winglike lines and arched curves of the three laminated, tapered legs, which gives it a certain floating lightness. The back and seat are made from form-pressed hardwood laminate and can be upholstered in either leather of fabric.
The Sawbuck Chair
Hans Wegner was initially trained as a cabinet maker and had great understanding of wood. This helped lead to the design of the Sawbuck chair in 1952. It's crafted from both solid oak and walnut, and is finished with clear lacquer. It's components are expertly joined together without the help of any metal hardware. It provides comfortable seating and can be upholstered in leather or fabric.