Available Equipment Racks Online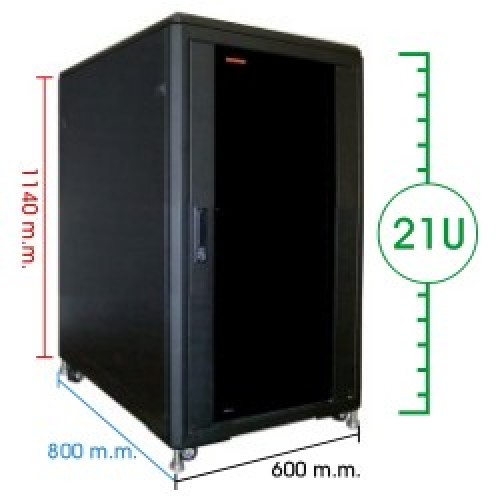 Tired of the cable clutter? Server racks are specially designed to help you store multiple devices at one place. Equipment racks are installed in a framework and serve as a storage for different devices mount one above the other. Not only that these equipment racks are space saving, but also prolong the lifespan of the devices you store inside. Equipment racks come in several sizes, and which one you are going to use will depend on the amount of equipment and space your network devices occupy. Before you actually decide to buy equipment racks, consider the products you want to rack mount, and calculate the rack enclosure height you will need. There are various models of equipment racks available online, however most popular ones are 4U rack, 6U rack, 9U rack and 24U rack.
4U Rack – 4U rack is ideal for storing equipment that does not require the full rack width, but require more than 1U of height. You can choose from 300 mm 4U rack or 450 mm 4RU deep wall mount cabinet with dimensions 280.00(h) x 600.00(w) that can mount devices side by side. This type of rack mount cabinet is easy to assemble and install. Made from high quality steel, the 4U rack has all the features you need to make your network running fast. Ideal for storing DVR, patch panels,switches, network and other rack mount equipment.
6U Rack – The 6U rack is an ideal storage solution for your standard rack mount equipment. Depending on the space you need to store the equipment, you can choose to buy 300 mm 6U rack mount, 450 mm or 550 mm 6RU wall mount cabinet, with dimensions 368.00(h) x 450.00(w). If you are looking for equipment racks that can hold up to 180 kg, then 6U rack is the right choice. Panels are removable whenever you want to access the equipment and ideal for solving your cable problem.
9U Rack – If you are in need of equipment racks that can store bigger telephone systems, patch panels, network and communication equipment, 9U rack is the right choice. You will have enough space to store heavy devices that require more space than the regular ones. To mount multiple devices on top of each other, you can choose to buy either 9RU 450 mm deep wall mount cabinet available online or 550 mm 9U rack with swing frame.
24U Rack – If you need bigger cabinet where you can store multiple routers, switches or other devices, 24U rack will be able to hold heavy duty frame work up to 180 kg in weight. Even though it is bigger than other equipment racks, this 24U rack will help you organize all the equipment in one place instead getting lost in the cable clutter you get from connecting different devices.