Outdoor Entertaining: How to Prepare a Bar Area
Do you miss the hot summer days, enjoying the heat under a shade with a drink in your hand? If so, now is the perfect time to start preparing your outdoor space for summer fun! This makes the ideal season to plan an outdoor makeover because you'd be able to find great offers you otherwise wouldn't, especially in summer, also there's the aspect of not having to wait a lot to purchase or have it delivered.
For instance, deciding to give your outdoor entertaining area an uplift with a bar, specifically a serving surface and outdoor bar sets you'd find a variety of furniture pieces that grab the attention with their stylishness as much as with their function and durability, created to withstand the weather wear and tear without requiring much maintenance; This is what's great value for money.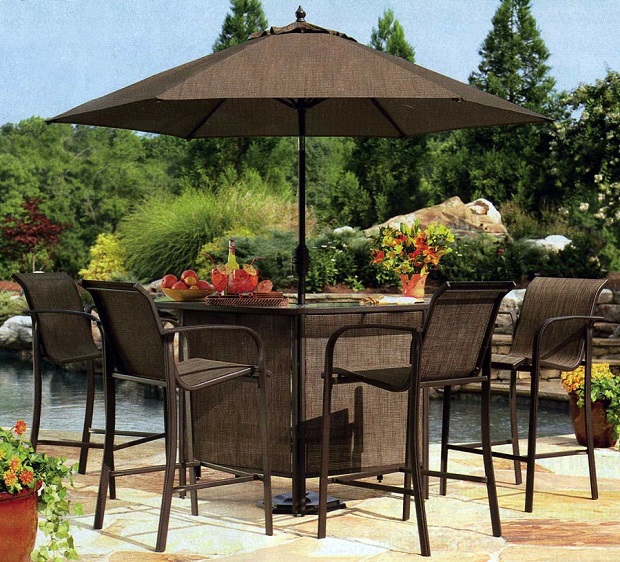 All you have to do before the purchase is choose where you want the bar area to be and then measure it up precisely so you'd know exactly what you need in terms of size. Next up, if you intend to use it often and entertain family and friends, you ought to choose carefully from the many outdoor bar sets, focusing on comfort as well, apart from the style and materials; comfort is what guarantees enjoyment!
Don't forget to consider how much of storage space you'd require for the serving surface where you'd keep all your drinks at hand. It's important to make use of this surface as a storage piece as well other than for serving especially when you want to save up on the space. Likewise, think whether or not you'd make the most of it by having enough of storage for the glassware and bartending accessories too, such as the different strainers, spoons, shakers, jiggers, ice scoop, muddlers, peelers and the like.
Before you get your home bar prepared and have all the bits and pieces of furniture and accessories delivered it's essential to think of your favourite drinks, what you'd have to get a supply of and start learning different recipes you can try out to surprise your friends with. The great thing is it can be some easy cocktails to prepare, so you'd have more time to enjoy drinking than preparing when the weather is hot.
You could also acquire some special mixology books to find out as much as you can about using all of the tools, adding ingredients you never thought of and before you know it you got yourself a new hobby!