12 Wedding Décor Ideas to Wow Guests on Your Big Day
The best way to make a wedding stand out is to make it your own. Instead of focusing on other people's weddings, spend some time analysing what best describes your relationship as a pair and use this as your starting point. Family histories, common interests, and travels are all fantastic inspirations. Second, don't forget to take your visitors into account! Your wedding is a celebration of your legal marriage to your significant other, but it's also very much about the convenience and delight of your guests.
1. Unique Guest Seating Arrangements
Choose unique seating for your ceremony instead of the usual benches or chairs. Some outstanding examples include floor cushions or casual tree stumps decorated with tribal design. Although it's simple to get carried away with the design, be sure the seating you select is cosy. If there is a certain mood you want to recreate, bales of hay, pouffes, and ottomans are all variables to consider.
2. Flower Hooks for Wedding
A wedding is meant to be the most romantic celebratory occasion that represents a special place in each person's life and memory. In order to make the important day memorable for a lifetime, no effort should be spared. There is no substitute for a stunning location and elegant wedding decorations to make this day one to remember, and who doesn't know about the role that flowers play in any decoration?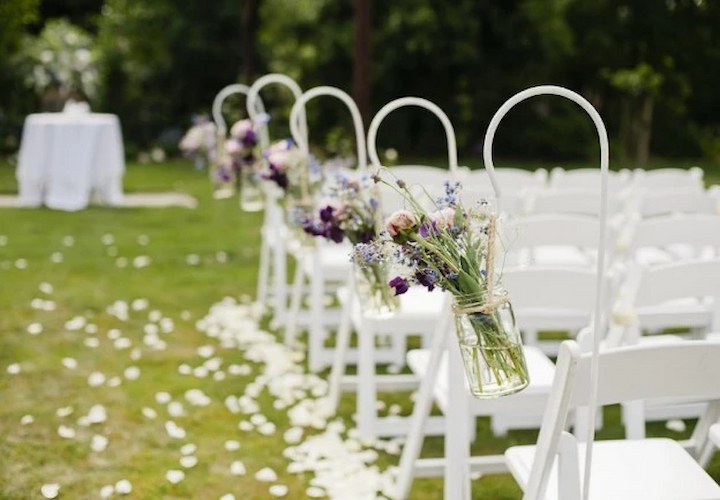 Flowers are perfect for a wedding since they personify love and romance in a unique manner, more so because they bring additional colour and refreshing and calming aroma to the area. So, feel free to adorn any indoor or outdoor location with lots of bloom details and invest in special flower hooks for weddings for a truly memorable detail. Beautiful flower hook arrangements used as wedding background decorations can uplift visitors' mood and promote social interaction.
Flowers are incredibly appealing to the eye, which helps enliven the atmosphere. Wedding hooks may be used in a variety of ways and many different theme decorations and setups because they come in a variety of colours and scents. Hanging candles, jars with candles, and string lights are just some of the additional decorating elements you can use them with.
3. Entertaining Cocktail Napkins
By having interesting information about you and your spouse printed on your cocktail napkins, you can turn them into valuable and interesting information to read. And they can also serve as an icebreaker for guests by printing out trivia questions about the newlyweds.
4. Meaningful Reception Table Labels
Give each reception table a name that references your romance, like "Prague," for instance. Put a tent card on the table that reads, "We met here at a study abroad during our junior year of college."
5. A Wedding Cake That Celebrates Your Ancestry
Consider pomegranate glaze, cannoli cream icing from Italy, and papaya filling from the Philippines (Middle East). If the groom is from a foreign nation, no problem—just consider different layers that represent them!
6. Photo Booth for Everyone's Enjoyment
Set up a little photo booth at the reception so that guests may act silly for the camera. For a delightful surprise, include their images with your thank-you notes. GIF photo booths are really popular right now but don't forget to give your wedding hashtag to guests so they may share the #love.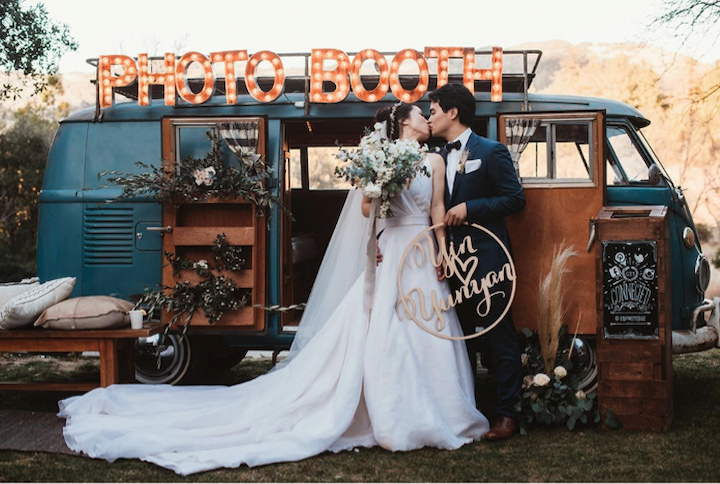 7. Fun Cocktail Hour Activities
Is the cocktail hour being held outside? To provide your visitors with amusement other than chatting, set up stations for various lawn activities like croquet, badminton, and jumbo Jenga throughout the cocktail and lounge area.
8. Creative Bridesmaids' Bouquets
Make the bridesmaids' bouquets unique by choosing flowers that correspond to the month of each woman's birth. To keep the look harmonious, stick to a single hue (pink peonies, pink tulips, or pink roses) or colour palette (jewel tones).
9. Special Matchmaker Treatment
Put a "matchmaker" sign and a greenery garland on the chair of the person who set you and your significant other up. Other significant figures who contributed to your courtings, such as long-time friends, acquaintances, or teachers you shared in childhood, could also be given a special seat or perhaps a flower crown to wear all night.
10. Custom-Made Invites
Think about including unique artwork in your invites and keepsakes. An artist can be hired to make a piece of art that combines the characteristics of the bride and groom's hometowns. This is especially a great idea for a couple that appreciates collecting art.

11. A Sweet Station
Every wedding can benefit from a candy bar – not just in those cases when the bride and groom have a sweet tooth. For an outstanding result, consider your full concept carefully before selecting the style of your candy table or bar. The ideal approach to this would be to select a theme that is identical to or comparable to the wedding's overall theme. Once you've defined it, you may begin organizing the many aspects of the candy bar, such as the placement. The sweet table typically needs to be easily available without getting in the way.
12. A Natural Altar
Is your ceremony going to be held outside? Consider basic, organic altar designs. As an example, think about the concept of a wooden altar's organic appearance surrounding the breathtaking mountain views in the background, and how it can be ideally adorned with dried flowers and a cowhide rug.