Everything You Need to Know About Drill Augers
There are dozens of drill bits used specifically for wood. But not all will get you to the depth and level of finish you need. General-purpose bits are fine for odd jobs, but when your livelihood depends on precision cuts, then you need specialist bits ready to work in any type of wood, both in light and heavy-duty tasks.
One such tool is the wood auger drill bit. This is a spiral-shaped bit designed to easily drill to larger depths, and is exceptionally good at removing excess materials the further down you go. Sharp tips ensure that the bit easily bites into the wood, and radial cutting edges both cut and bore out wood.
Where are Wood Augers Used?
You'll want wood drill augers to drill deep holes into wood. They can be used with wood braces when working with hand tools, or power drills when you need more speed. The holes are uniform and free of clogs, so ready for cabling, pipes, attachments or fasteners. No matter if you're working with hard or softwoods, wood augers can get the perfect finish you need with the least effort.

Parts of Wood Auger Drills
Wood augers resemble corkscrews. They consist of the guide screws at the tips to centre and guide the bit into the wood. Guide screws can be of varying gauges. Coarse screws eat into softwoods faster, and fine screws are ideal for precision when drilling into hardwood. Many auger bits used with a power drill have less pronounced screws called gimlet points for the initial tap.
Perpendicular to the guide screw are the spurs that make the first full cut into the wood, followed by the cutting edges or lips arranged in a single or double twist. This area of the bit is known as the bit web. Lips both cut into the wood and remove excess materials. The cutting edges thin out into a circular shank and this flows into a hex-head tang.
Design Variations
Differences in the design, also called patterns have evolved and taken the names of inventors and woodworkers seeking more precise cutting tools. The most common pattern is 'Russel Jennings' with flat lips and spurs that protrude from the bottom of the bit. These are also double twisted, so bore out clean holes. By comparison, 'Scotch' bits have spurs that form part of the bit web, with the lips sloping towards them, and this allows for a little more stability and neater cutting. Other patterns include Irwin, Cook and Lewis among several others.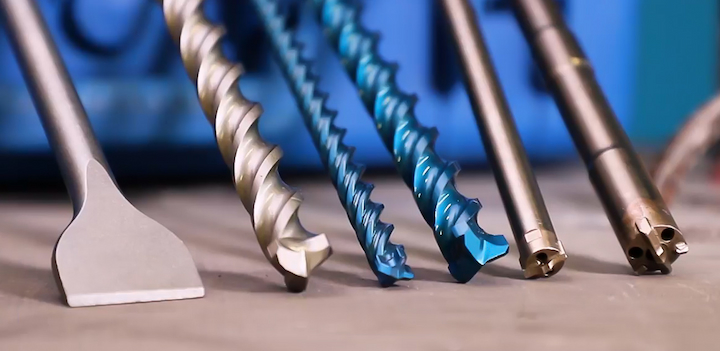 Materials
As with designs, materials in wood augers have changed. The first bits were made from hot-rolled cast steel, but today most bits are fabricated from high carbon tool steel. This is hard wearing though somewhat softer than HSS. You'll also find bits made of HSS, with or without oxide coatings. Black oxide helps with durability and titanium or carbide coatings are good for reducing friction. You'll find these work better in hardwoods, and wood littered with nails. For all other purposes, uncoated tool steel is more than up to the task.
Choosing the Right Wood Auger Drill Bits
When weighing your options as to which drill augers to get to complement your tool kit, there are a few considerations to take into account. First is the type of wood you'll be boring into, and as mentioned auger bit materials play their part here. Choose what's right for your application. This makes boring into wood that much easier, but also extends the longevity of the bits.
Next is the design, and this affects precision. Ensure that the guide screw is perfectly sharp, as this drags the bit into the material. Blunt guide screws can be a hassle to align and will cause imperfections. This is enough to totally ruin the workpiece, resulting in lost time and money.
Other factors to consider when choosing your next wood drill auger are:
Diameters – This is the width of the borehole. Smaller wood augers start at 6mm and top out at 32mm in the widest bits. If you do a range of work, then going with a wood auger drill set and bits in varying diameters makes a lot of sense. You'll have the bit in the right diameter each and every time.
Lengths – Wood auger bits are designed to dig deep, and they do this with improved control and precision. As such, they're typically longer than other bits. Lengths range up to 60cm, so drilling into trees is also a possibility. If that's not enough, drill makers let you attach bits to extension bars to get the desired depths. Both diameters and length are marked on the bit itself (usually on the shank or tang), or on the packaging.
Prices – as a specialty wood bit, a drill auger will be priced according to length and diameter, as well as the materials used. Longer and wider bits will naturally be more expensive. Coatings and bits sourced in stronger steel alloys can also up the price considerably. In addition, variations in designs do affect pricing (and availability), but to a lesser extent.