Benefits of Bin Lifters in Industrial and Warehouse Settings
Believe it or not, managing your company's waste properly can directly benefit your business by cutting costs and waste. This holds especially true in industrial settings and warehouses, where there is excessive waste on a regular basis. For this reason, bin lifters are the ideal solution to these, and numerous other work-related situations. These bins are designed to withstand the harsh conditions of industrial settings and warehouses, and help staff do their jobs in a safer and more efficient manner.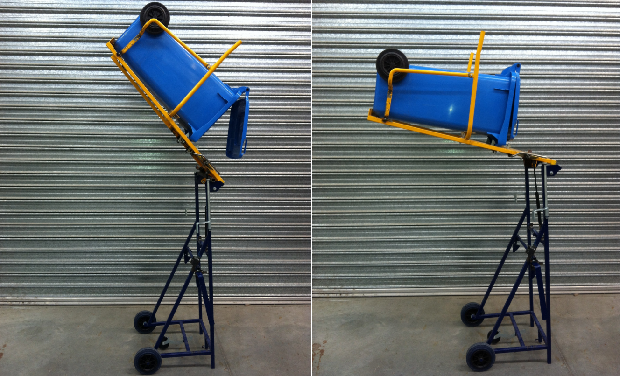 Once you get used to the wheelie bin lifter, you'll find these tools indispensable, and your workers will be very thankful for their existence. These pieces of equipment are perfectly balanced to come forward when loaded on a fork, can easily be taken to the dumping area, and can easily be tilted and taken back to their original upright position when all is said and done.
Quality models are designed to withstand and prevent dripping when used for hauling when wet. Moreover, a quality wheelie bin lifter will have its edges, tops and lip designed for safety and strength, made of quality materials and multiple instances can be stacked into one another to save room. A heavy-duty chain can be included as an extra safety feature which secures the bin to a forklift.
You aren't left with a shortage of options when it comes to lift bins either. There are models the lid of which can be hinged, to further protect the contents inside. However, these bins aren't stackable, which is something to keep in mind if you opt for this type. On the other hand, they can come with casters, which make them extremely portable. Smaller bins usually have two casters, two rigid and one that can swivel. Larger bins come with two rigid casters and two that can swivel.
Colour wise, they're typically available in grey as primer and yellow for safety. They're incredibly easy to attach and exceptional for handling almost any type of material. They're designed for safety and convenience, and can be operated by a single operator by simply pulling a cable, without having to maneuver the forklift.
Bins are very versatile pieces of equipment and are great for moving wood and metal chips, sludge, castings, recyclable items and other similar types of material. They'll often be accompanied by a latch that can lock it in place to prevent accidents and unintentional dumping. If working with wet materials, you can get waterproof bins which can also prevent leakage, and dump 100% of the content.