Factors to Consider When Buying a Thermal Imaging Camera
Every contractor who has to diagnose and troubleshoot appliances on a daily basis, whether that's in the plumbing, electrical, pest, and building or restoration industry – understands the importance of having a quality infrared camera. The purpose of thermal cameras is just what their name implies – to read and display the amount of heat emitted from objects using infrared light. As you already know, every object with a temperature above the absolute zero emits infrared energy. The amount of energy the object releases is related to its temperature, and as the temperature of the object rises, the amount of infrared energy emitted increases as well.
However, there's a wide range of 
infrared imaging camera
models available nowadays, and there's no universally "best" choice. That being said, there are a couple of factors to consider when shopping for an infrared imaging camera if you want to make the right purchase for your specific needs. Sensitivity, resolution, temperature, and the camera's features are the determining factors when it comes to buying the ideal camera.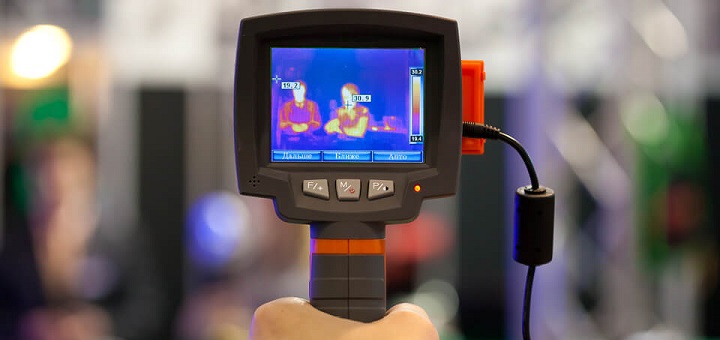 Sensitivity refers to how sensitive the camera is to temperature. For instance, some thermal imagers are sensitive to 0.05° C, while others are sensitive to 0.10° C. Cameras that are sensitive to lower temperature changes will see smaller variations, thus creating sharper images.
The resolution refers to how many measurements the thermal camera can take. This is important because images from thermal cameras are created by taking a range of measurements, converting them to an electronic signal and displaying the results. A camera with 1×1 resolution has 1 pixel, while a 120×120 camera has 14,400 pixels, resulting in a more meaningful and detailed photo.
The temperature indicates the temperature range the camera can measure. Some cameras are designed for specific operating conditions and industries. Ensuring the camera you use is capable of performing readings in the right temperature range will result in clearer and more accurate images, making the tasks at hand significantly easier.
Lastly, consider some of the other features of thermal imaging cameras. Some models have video capabilities while others don't. Consider how important videos are to you, and whether you want this feature or not, as it can greatly impact the price of the model. Additionally, consider whether camera focus is important for you. Newer models also come with an increased range of connectivity, and now include wi-fi and Bluetooth in addition to conventional cable connectivity. Carefully considering all of these factors will ensure you get the right model for you at a good price.