Different Ways To Add Pink Wallpaper To Your Girls Room
It's easy to say that nearly every little girl who dreamed of being a princess wanted a pink bedroom. Now it's easier than ever to create your little girl's dream room thanks to the help of pink colour wallpaper. Now some parents might not like the full pink room, well thanks to wallpaper you can find a great range of all different sorts of pink themed wallpapers that are sure to please both parents and kids. Below we will be going over ten different ways you can incorporate pink colour wallpaper that are a mixture of subtle, retro, and all over pink.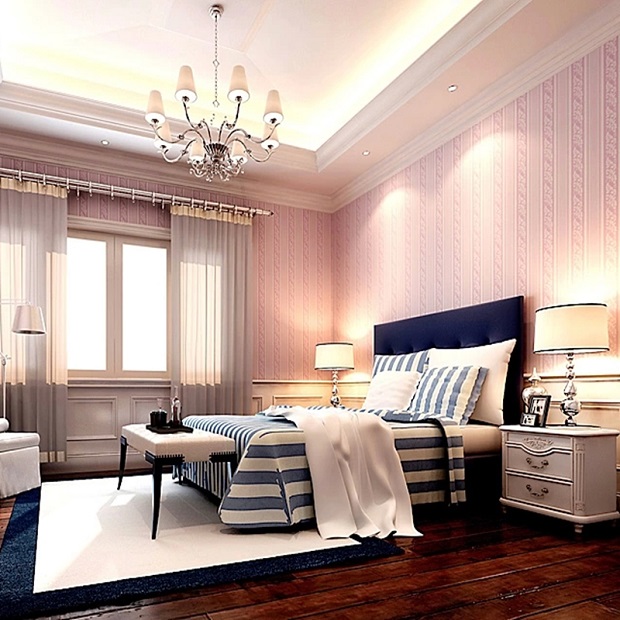 Bold & Floral
Bold floral prints on wallpaper come in so many different shapes and colours including a huge range of pink wallpaper. These prints are cool and fresh and give the room a sort of beachy, surfer girl vibe. The scale of the flowers and shape really determine the feeling so if this is what you are going for, look for flower prints that are more cartoonish and large.
One Shade All Over
This makes the whole room look pink and it can look great if it's not a vibrant or rich pink. Vibrant hues are to be avoided so it doesn't become an eye sore! Try matching the furniture and accessories as well for an all over pink glow.
Sparing Details
One way for parents to not go overboard is to pick a pink wallpaper that doesn't actually have that much pink for a more minimalist vibe. A great choice is pink colour wallpaper that has fine pink lines this way you keep the room looking fresh but still girly.
Mix Them Up
Choosing different shades of pink to mix up can really make the room feel more fun and your kids will think so too. Try to avoid furniture or artwork that will clash and make the room feel over stylized. To really pull this off try choosing different shades of the same pink to still have a unison effect.
Traditional Princess Pink
You could always go the traditional route with a gorgeous baby pink colour wallpaper all over. The accessories are what make the room feel more like a princesses castle so choose a bed with a canopy and some sparkly embellishments.
Wall Decals
If you are someone who wants a more modern take then why not choose some great wall decals. This way you can change the room easily when your children start to grow and develop other tastes. You can find some really great wall decals in all sorts of colours that can be fun for your children to pick out as well.
Just The Border
If you don't want to go overboard why not just create a border with wallpaper. This is something that can look as prominent or as subtle as you like depending on the width and colour. Choose something that you think would look best with the rest of the room.
Try A Retro Design
If you are someone who loves that retro feel that takes you back to your childhood then you should try the combination of red, orange, and pink. Pair this with bold prints and big designs and you will feel like you just stepped into the middle of the mid-century.
Make It Bright!
If you have a little girl with a giant personality, then why not match the room to her. Bright fuchsia pinks look great when the rest of the room matches them, a great trend is by pairing it with a bright lime green. It sounds crazy, but it works!
Outline Patterns
Last but not least, why not stick to something like a white wallpaper that has outlines of something fun that are in pink. You can find a great variety that has outlines of animals, hot air balloons, or princesses themselves.