Skateboarding: Join the Cool Cats in Town
The skateboarding style, or street wear style as many like to call it, has become extremely popular lately. And for a good reason – it looks cool, it feels comfortable and it's extremely unique. People like myself who like to dress like that will never cross paths with another person who's wearing the same style or the same combination of clothes, ever. That fact for me, is what makes it better than anything else.
If you want to embrace that style, but aren't really sure what clothes to look for and what combines with what best – don't stress. There's no way you don't look cool, regardless of your choice. But if you want to get the breakdown to it, here are a few things to keep in mind.
First off, you should dress like a skater, only if you like the look. You don't necessarily have to skate, but that's a big plus in my opinion. Don't pay attention to people who will call you a poser, if you like the style, go for it. You don't see every punk-rock dressed person out there performing at live concerts, and you don't see every saggy jeans wearing kid rapping like he's J. Cole.
After you've decided that this style is what you want, it's time to pick out all the sub-styles that come with it. The accent of this style is put on comfort, because after all, it is meant for skaters, and skaters need to be able to perform tricks. This means that the clothes should be practical, non-restrictive – offering flexibility and mobility. You can choose from many different styles – hip hop style, the general style, punk skater style, the rasta style, etc.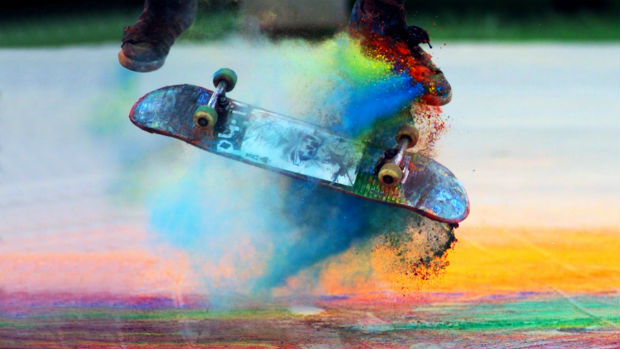 As for where you can find this type of clothes, your best bet is taking a look at an online skate shop. Contrary to popular belief, an online skate shop does not offer skateboards and roller blades exclusively, it also offers apparel. So before checking your local skate shop, look online and get an idea of what you want to try and buy. Some popular brands are Vans, DC, Converse, Circa, Supra, etc.
And don't forget the beanie or the snap back. It's probably the most iconic piece of clothing that every skater should have. It makes you look much cooler and you won't ever have to worry about having a bad hair day. It's a win-win situation if you ask me. But most importantly, you can fit everywhere looking like you do. You can wear these clothes when you go out with friends, skate in the park, etc. So don't wait or feel stressed about whether it will look good on you or not, because it definitely will. And it's never too late to embrace and participate in this iconic evergreen street culture. Remember, the main thing is always confidence – if you're confident that you look good, you'll radiate positive energy. And honestly, nothing beats good vibes. Have fun!