How To Select the Perfect Art Piece for Your Home
There's a reason most people include some form of art in their homes. Whether it's a print of a landscape, an abstract painting, or simply a portrait, art has the ability to give some soul to any space. And let's face it, nobody likes bare, boring walls! In a room where everything else is static, art can help create a visual feeling of movement, adding more colour and liveliness. Together with some additional small room décor in the form of rugs, cushions, lamps and candles, you can create lovely, unifying look around your art.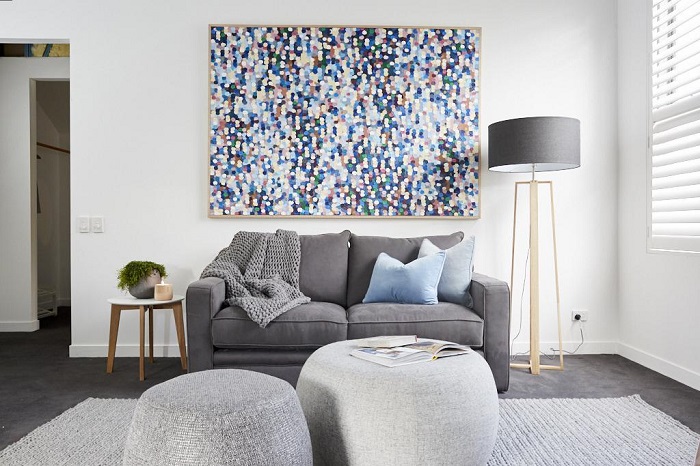 Set the Right Tone
Before going on a hunt for online art or paying your local gallery a visit, you should decide what kind of vibe you'd like your home to have. For instance, bright colours and unframed canvases of abstract art tend to give a more casual feel. On the other hand, framed images depicting a distinct theme in darker colours help establish a formal tone. Consider how a particular artwork will blend in with your existing design.
Choose the Style of Artwork
What you put on your walls is ultimately your own personal choice, however don't rely on your gut instinct alone and buy a piece just because you instantly loved it. Rather, take your time and think about what it is that appeals to you – is it the colours, the subject or perhaps something else? The good thing about browsing through online art is that you can revisit it later, in an hour's time or the next day. Taking your time can save you from making an expensive purchase only to have regrets about it some time later. And if you have doubts about where to start, pieces that are inspired by nature are always a good choice. Gazing at such images, you can really lose yourself and get transported to a whole different place.
Pick the Right Frame
Like we've said, unframed artwork works best for causal spaces, as well as contemporary homes and Scandinavian-inspired settings. If you think your artwork can benefit from a frame, a general rule is to chose a look that will never go out of style such as black, brown, or even gold. When opting for timber frames, pay attention to the look of your floors. For instance, dark mahogany frames do not look good around blonde timber floors.
Size of Artwork vs. Space
When you have a small room and want to visually enlarge the space, a big piece of art will make it seem like the room is bigger as well. On the other hand, multiple smaller pieces can make the space look cluttered. When selecting artwork to mount above your entertainment unit, go for a piece that's less wide than the unit so that the two can "frame" each other. When you're creating a gallery wall or want to include multiple pieces in a single room, you should select your "star" and then the secondary pieces. A star artwork usually features bolder colours and takes the most prominent spot in a room.