Change Tables Online: Things to Consider Before You Buy
Preparing to welcome the newest member of the family into this world is probably the best feeling you'll ever experience as a woman. It's a mother's instinct; you want the best for you baby, you want him to have it all so that he feels only happiness and joy. And you don't want to be have to think about trivial things such as not having enough diapers, cleaning wipes or not having a suitable changing table. You are much more organized than that! Speaking of which, nowadays the changing table is no longer just a table for changing diapers that you'll use for a few months and throw it away; it has evolved into an important baby furniture element.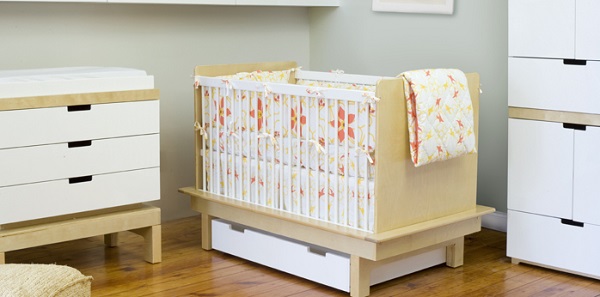 The baby furniture market today is full of various designs and models of changing tables; the common thing about all of them is that they're the type of furniture that can be transformed from a baby changing table into a nice armoire for the kids bedroom later on. Therefore, when you look for change tables online, make sure you choose one with the following features.
The shape
You need a changing table that has a concave surface; the middle should be slightly lower than the sides so that the baby is comfortable while laying in it. Plus, the side rails should be slightly higher than the rest of the surface area so that the baby is secured from falling. This is important especially for very active babies who tend to move a lot. In addition, you should have enough space around the table to store cleaning wipes and diapers, because you will want to always be prepared to attend to your baby's needs.
The size and space
As much as you think the size doesn't matter, wait until you see everything that's offered in change tables online stores; everything from low tiny changing tables that will cause you dizziness and back pain, to higher, larger tables for tall people who love being comfortable while nappy changing. The point is, you should not be experiencing back problems when you perform this task; you'll be doing it quite often and you want it to be easy and comfortable for you, not painful. Additionally, the size of your space will determine the size of the changing table you get; if you're living in a small apartment, you should plan your nursery budget and space very carefully. That being said, you'll want a small changing table which you can easily accommodate in the small nursery you'll probably have.
The construction
There will be a number of options for change tables online retailers offer so you must be very careful when you choose. The construction of the table will determine how long will you be using it. You want something to serve you for a long time, because you can never know, you may need the changing table again at some point in near future (a big family is always a good idea). So, when you get the table, test it: shake it for a while to see if it's sturdy enough and well-built. In addition, make sure the table comes with adjustable straps for securing the baby. A word of advice: even if the table comes with straps, do not ever rely solely on them; simply try not to leave the baby unattended while on the changing table. Take him with you, or postpone whatever you were going to do in the first place.