Best Varieties of Ornamental Grass with Low or No Maintenance Requirements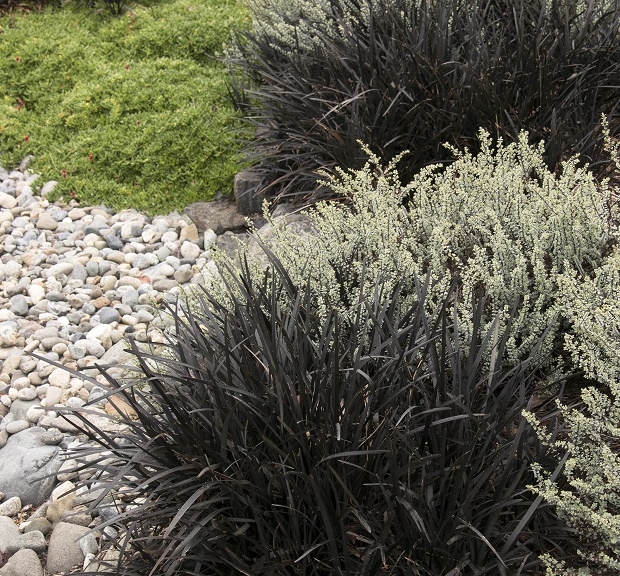 Ornamental grasses are becoming more and more popular nowadays and are a common sight in lots of gardens across the world. They are quite pretty, refreshing and the best of all, they require very low maintenance. They are not the same type as the "lawn" grasses as they are there to beautify the area, whereas the "lawn" grasses serve primarily as a surface to walk on. Therefore, ornamental grasses are not meant to be mowed and tread upon. They are used for landscaping purposes and can be mixed with plants to fill flower beds and create diversity in form and texture. If you want your garden to look neat and luscious without having to spend a lot of time taking care of it, let's take a look at the top ornamental grass varieties so you can pick a favourite.
Black Mondo for Contrast
An evergreen plant with exceptional dense, purple-black, grass-like foliage, the black mondo is among the top choices. It gives a remarkable contrast in the garden due to its unordinary colour which enhances the interest in the landscape with its dark lavender flowers in the summer followed by purple berries in the autumn. You can find black mondo grass plants for sale that are beautifully grown with mature tube stock with well-developed roots. Usually, the black mondo grass plants for sale are ready to be planted directly into the ground. Once established, this plant needs partial to full sun exposure, a bright shade in hot climates and moist soil that requires weekly watering.
Lilyturf for Borders
This is a semi-evergreen grass with spreading clumps of dark green or variegated leaves which turn to bronze-green in the winter. Same as the black mondo, the lilyturf is used as an edging plant from where it gets its nickname "border grass". It produces spikes of small flowers in late summer and in autumn, it produces pea-sized berries. It is a great idea to use them as fillers in spring flower beds under the flowering bulbs because as the bulbs fade, the lilyturfs remain to keep the interest high. When it comes to its maintenance requirements, the lilyturfs can be grown in almost any amount of light from full sun to deep shade, however, extremely hot summers or cold winters are not recommended. It can thrive well in a wide range of soil types, however, a loose, rich, well-drained and slightly acidic soil will provide the best results.
Zebra Grass for 4 Seasons of Interest
The Zebra grass is an evergreen type which has variegated striped foliage during the course of the whole year, copper coloured inflorescence in summer and golden leaves in autumn. It produces a breathtaking screen with its long arching leaves with appealing stripes across the width. It needs a full sun environment and plenty of water. Another great fact about this type of ornamental grass is that it is resistant to most pests and diseases due to its strength and hardiness.
Blue Fescue for Accent
The blue fescue grass is an evergreen type with slender, wiry blades of blue. It is great to use it as a mounding accent plant for borders and rockeries. Even though it is considered an evergreen, it does lose some of the older blades but it grows new, deep blue leaves in spring. It can thrive well in all seasons except for scorching hot summers. It needs to have a well-drained moist soil and full sun exposure. It is low maintenance as it doesn't need fertilization but only if you have previously provided organic mulch around the base of the grass.